At your service in 2020 and beyond
Despite the hurdles of 2020, we're thankful for the opportunities we had to stay true to that promise and show our commitment to you.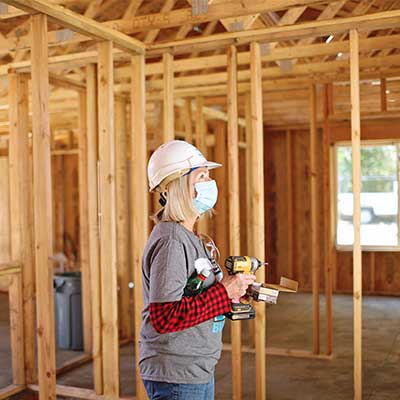 Supporting our customers and communities
In 2020, our employees volunteered more than 2,900 hours to give back to our communities through their time and talent. The activities ranged from collecting food items and supplies for families in need, building houses or painting facilities, to helping organizations put on socially distant events such as trick-or-treating, homecoming parades or live theater. We also donated $4.8 million to charities and organizations to support the sustainability of our customers while helping our communities thrive. We achieved all this through our corporate citizenship program,
MidAmerican Energy CARES
.
When COVID-19 cases reached a high point in our service area, and it wasn't safe for us to enter peoples' homes to conduct certain gas inspections, we sent gas detectors to customers scheduled to have their indoor gas meter inspected to ensure that they had a way to know if there was a problem without us coming to their homes.
To help our customers save money and energy, we helped more than 22,000 customers evaluate their energy habits and identify ways they could lower their energy usage (and their bill) through our
HomeCheck® online energy assessment
To help you take the next step to a more efficient home,
we offer rebates
for purchases of energy-efficient appliances. In 2020, we provided rebates for more than 2,400 smart thermostats and over 8,000 high-efficiency furnaces for our Iowa and Illinois customers.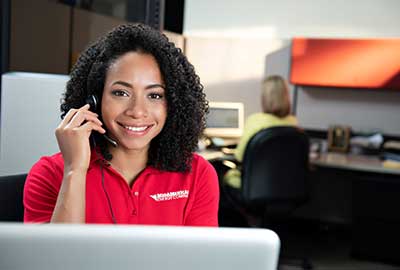 In October 2020, we launched webchat in
My Account
to make it even quicker and easier to give you the answers and solutions you need. Already, nearly 2,000 customers have taken advantage of this new way to quickly get in touch with us.
Improving reliability
Throughout 2020, we installed nearly 1,000
smart sensors
on power lines across our system to help identify when and where problems occur so we can restore service after an outage even faster. We now have more than 2,000 of these sensors installed across our grid!
To help significantly reduce the time it takes to restore power after an outage, this year we started a pilot project of remote-capable switches on our distribution lines. These switches allow us to remotely isolate the damaged section of a circuit when an outage occurs and restore sections of the circuit that are clear of problems. We plan to expand this project even further in 2021.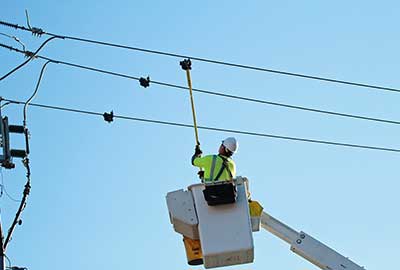 We completed the second year of a multi-year project to
replace low-pressure natural gas systems
in Iowa City and the Quad Cities. Moving to higher-pressure pipelines will help ensure residents of those areas have safer and even more reliable gas service. In 2020, we brought more than 2,600 customers over to an intermediate-pressure system to ensure reliable service as we move forward with the project.
Our vegetation management team inspected more than 4,600 miles of overhead distribution lines and another 4,600 miles of high-voltage transmission lines,
pruning or removing any tree limbs
that might damage power lines and interrupt your service.
Preparing for a sustainable future
As 2020 closed out, we were wrapping up work to bring five new wind farms on-line. These new wind farms include 270 turbines and more than 785 megawatts of generation capacity that will deliver enough
clean, safe and reliable energy
to power more than 296,000 Iowa households.
Renewable energy doesn't stop with electricity. In 2020, we finished renewable natural gas projects at wastewater treatment plants in Sioux City and Des Moines. The water treatment plants in both cities installed equipment that captures and refines methane gas that is typically flared off during the treatment process, making gas suitable for use in the MidAmerican natural gas system. We installed equipment near their sites that allowed the renewable natural gas to be injected into our own systems. This renewable natural gas not only reduces the emissions from water treatment plants, but it can also be put to good use heating your homes.
To help make environmentally friendly electric vehicles more accessible to our customers, we offered rebates for Iowa customers who purchased or leased an electric or plug-in hybrid vehicle this year. We also met our 2020 goal of developing our network of 18
electric vehicle fast-charging stations
across our service area, and we've announced plans to build 32 more by the end of 2022!
We strive always to deliver reliable electricity while maintaining healthy trees in our communities. In recognition of this effort, the Arbor Day Foundation awarded us the Tree Line USA Award for the 19th year in a row!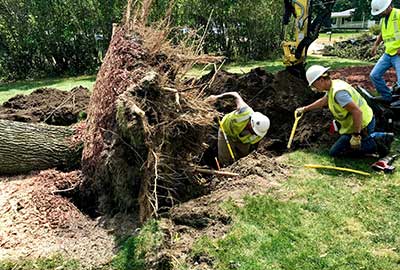 Responding quickly to a historic storm
When the August 2020 derecho tore across the Midwest, we worked tirelessly to contain emergencies and restore service. Thanks to everyone working around-the-clock, and essential help from other utilities, contractors and tree crews, we restored power for nearly all our customers within seven days of this historic storm event. Essentially, we squeezed roughly a year's worth of work into a single week.
Proud to serve you
As we begin 2021, we give thanks for all we've been able to achieve, and for you – our customers – for the support you've shown us, your neighbors and your communities throughout this challenging year behind us. We're not just your energy company – we're members of the communities we serve. And, despite the many obstacles each of us has faced this year, we should all be proud of what we've achieved together.
From all of us at MidAmerican, have an excellent 2021!
You may also be interested in: