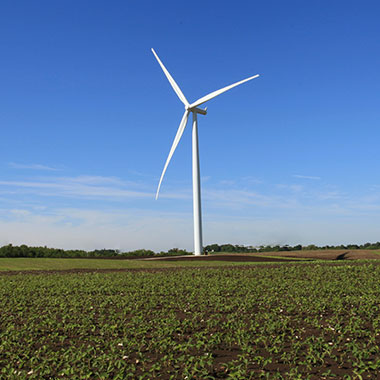 For nearly 20 years, MidAmerican Energy has invested significantly in wind energy. Our wind development helps maintain affordable rates and has made Iowa a wind energy leader. Plus, we're able to provide our wind generation at no net cost to our customers.
By creating jobs in blade manufacturing, construction and turbine operations, to
partner landowners
and attracting new companies to the state, wind energy helps Iowa's economy. It also provides direct, long-term economic benefits to the
state's rural areas
:
To date, MidAmerican has invested approximately $14.4 billion in wind energy projects, creating construction and permanent jobs across the state.
In 2022, MidAmerican paid approximately $41.4 million in landowner easement/lease payments for our wind projects. We currently partner with 4,300 primary and neighbor landowners across Iowa.
Also in 2022, we paid approximately $40.6 million in property tax payments on our wind turbines spanning 33 counties. That provides funding to schools, roads and bridges, county health services and emergency responders.
MidAmerican has over 7,500 megawatts of clean, renewable energy generated from more than 3,400 turbines across the state. Our wind farms generate enough electricity to power over 2.3 million average households each year. We're also exploring new technologies – like
battery storage
– to make wind energy go further.
Landowners
Renewable Communities
Wind Farm Map