Customer Energy Generation and Rooftop Solar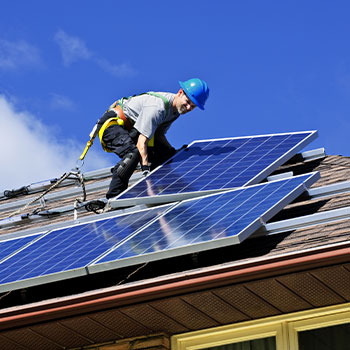 Customer generation – or distributed generation – systems are small-scale, on-site power sources located at customers' homes or businesses. Rooftop solar panels are a common example of distributed generation technology. Customers interested in solar or other types of distributed generation are encouraged to review the Iowa Utilities Board's
Consumer Information Guide for On-Site Generation
or the Iowa Energy Center's
Solar PV Energy Guide
.
When adding distributed generation systems to your home or business, it is important to understand what's involved in connecting your system to the electric grid. View this
checklist
as you consider whether or not distributed generation is right for you.
Safety is of utmost importance to us – for you, first responders and our crews that may have to work around the system in the future. Because your system becomes a part of the electric grid, you must follow state and federal safety regulations.
How to set up a distributed generation interconnection:
Gather account usage history via My Account or by calling 888-427-5632.

If solar installers are directly requesting this information, they will need to fill out our third-party access form first to get your permission.

Complete an interconnection application and submit an application fee (application and fee vary by state and size of proposed distributed generation).
MidAmerican reviews the interconnection request according to applicable state rules.
MidAmerican determines if there are any necessary changes to your proposed distributed generation or MidAmerican's existing electric distribution system, such as a transformer upgrade, as well as any applicable costs associated with such upgrades.
Based on information received, a standard state interconnection agreement between the customer and MidAmerican is created, granting approval to proceed with the distributed generation system.
Once the installation is complete, submit a Certificate of Completion and inverter setting details.
MidAmerican reviews inverter settings and conducts a witness test ($125 witness test fee in Iowa).
MidAmerican changes the electric meter and provides you with the executed Certificate of Completion – this gives you permission to operate the distributed generation.
Your new rate will go into effect.
Remember, you will still get a bill from MidAmerican. This may include a basic service charge, meter charge (depending on state), charges for the kWh used that exceeded what was generated (including riders), demand/reactive demand charges (depending on your rate), taxes, and charges for other services, like natural gas. Please note that if you have Budget Billing set up on your account, it will not carry over to your new bill.