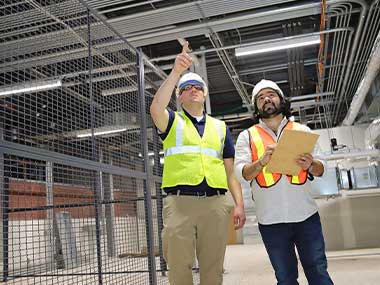 Our customers, shareholders and employees expect the highest quality service in every aspect of our business. We maintain that same standard for our vendors and believe that quality, service and cost advantages are best achieved when we work collaboratively toward common goals.
Our vendors must demonstrate a solid track record for:
Customer service
Lowest total cost
On-time deliveries
Communication
Ethics
Technical expertise
To participate in our bid opportunities, companies must be registered on our eSourcing Portal called
JAGGAER
. The entire bid process (RFx) will be conducted through JAGGAER including Request for Information (RFI), Request for Proposal (RFP), and eAuctions. New and existing MidAmerican Energy Company vendors must be registered with a basic profile in JAGGAER before receiving any project alerts. The extended profile, while not required, is strongly suggested that vendors complete. Your company's participation in JAGGAER could provide additional bid opportunities with other affiliates, such as BHE Renewables, LLC and MidAmerican Energy Services.
Registration tips
A Google Authenticator and multi-factor authentication (MFA) is required when setting up a profile, which requires the use of a smartphone as part of the authentication process.
Each supplier will have one super-user who will have all rights for your business, including the ability to manage other users.
The first user to log in should enter the designated super-user information on the registration data page in the bottom section.
Each new user can create their own login on the registration page or the super-user can sign up additional users inside the JAGGAER system.
Be sure to select all commodity category codes that pertain to your business.

A basic profile is required to be considered an active supplier and to be included on RFP alerts.
An extended profile is optional at time of registration, but is recommended to save time when completing future RFPs.

This will also help to better identify potential future bidding opportunities.
Vendors must comply with the following policies: