Iowa City, Quad Cities Natural Gas Upgrade Project
In early 2019, MidAmerican Energy started a multi-year project to upgrade natural gas distribution systems and equipment for nearly 18,000 residential and business customers in the Quad Cities and Iowa City.
We are replacing 343 miles of low-pressure distribution systems with modern intermediate-pressure distribution systems. Crews will also move more than 2,600 residential gas meters currently located inside homes to outside locations, which are easier to access without disturbing customers.
In Iowa, the project will impact neighborhoods in Davenport and Iowa City. In Illinois, parts of East Moline, Moline, Rock Island and Silvis will be impacted.
Only small areas of low-pressure distribution remain in these cities. Areas within these cities that are not part of the project already have intermediate-pressure systems. Once this project is completed, MidAmerican will not have any remaining low-pressure systems in our four-state service area.
The project will be completed in phases by location, dependent on supplies and weather. Some areas are already completely upgraded, while others will not begin the final replacement stage until 2025. The entire project is planned to finish in 2025.
"Delivering safe natural gas service to our customers will always be a top priority for MidAmerican," Nick Nation, MidAmerican vice president of gas delivery, said. "The extensive undertaking of replacing the low-pressure distribution system is one example of prioritizing safety."
2019 News Release
Maps
Frequently Asked Questions
---
Timeline and Location
Phase 1 (Complete) – Natural gas equipment verification and assessments.
Phase 2 (Complete) – Installation of temporary monitoring and pressure control points to enhance project safety.
Phase 3 (May 2019-2025) – Neighborhood-by-neighborhood replacement of underground pipes and meter relocation in impacted areas.
In 2023, crews are replacing systems in portions of the following cities:
Rock Island: February-December
Davenport: February-December


Will I be charged for work associated with this project?
No.
How old is the low-pressure system we have now?
The system has been in place since the 1940s. MidAmerican previously replaced all of the original cast iron pipes with steel and plastic pipes.
Is this low-pressure system safe?
The current low-pressure system is safe and reliable and continues to serve us well today.
Why are we doing this?
Just like a bridge, over time, infrastructure needs to be updated or replaced, and gas lines are no exception. The updated natural gas distribution system will continue to provide safe, reliable service to our customers for decades into the future.
How will I know if I'm part of the project?
We will replace our system neighborhood-by-neighborhood, which will take place through 2025. If you live in an impacted area, you should have already received mail notifying you that work was planned for your neighborhood.
You will receive more mailings and an automated phone call closer to the project starting in your area. When work begins in your neighborhood, we will contact you and let you know how long the project in your area is expected to take.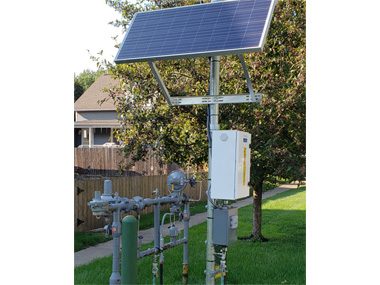 Will you need to come inside my house or business?
Yes. If we are moving your gas meter outside, we will need to schedule an appointment to see your meter and discuss options for moving it. We will need to be able to access your meter, so make sure it is easily accessible and not blocked. Please secure any pets. We also ask that you inform us of any hazards or unsafe conditions, like exposed wiring, a broken stairway or loose railing.
Then, we'll schedule an appointment with you to move the meter. If you plan to ask someone else to be present during the relocation, make sure you communicate your preferred location to minimize delays and the need for a second visit.
Even if your meter does not need to be relocated, we will need to come inside to check and re-light your natural gas appliances.
What is the equipment and solar panel that appears above the ground?
We have installed additional monitoring and control equipment below ground at these locations. Above ground is some additional equipment, including a solar panel that serves as a power source. This additional equipment is a temporary installation. We will remove it once we finish upgrading natural gas lines that are connected to it.
Do you plan to shut off my gas service during the project?
When we transfer service from one pipe to another, we will have to temporarily interrupt service to each customer at least once. We will notify you in advance that service will be temporarily interrupted, and we will schedule an appointment with you to check and re-light your natural gas appliances.
Additionally, we will need to interrupt your service temporarily if we are relocating your meter. We will notify you of the relocation plan in advance, work with you on scheduling, and then, at a mutually agreed upon time, come inside to check and re-light your natural gas appliances.
How will the pipe relocation project affect my neighborhood and my property?
Work in your area begins with a locating service that will paint markings on the ground and place colored flags above existing underground utilities. You may also experience temporarily barricaded areas – traffic lanes, streets or driveways – and temporary "no parking" designations. Crews using heavy equipment may dig holes and trenches or push plastic pipe into the ground using directional drilling equipment.
MidAmerican employees and contractors will arrive in vehicles marked with MidAmerican, Precision Pipeline or Precision Infrastructure logos and will wear identification badges for one of those companies. They will only be present during normal working hours unless there's an emergency. Don't hesitate to ask to see a person's identification badge. If you would like to verify that an employee works for MidAmerican or is an authorized contractor, please call us at 888-427-5632.
Will you restore any damage to my property?
In the event the project impacts your property, we will restore sod and shrubs that were in place prior to any service work at no expense to you. Restoration work is typically completed within two weeks of the completion of construction, weather permitting.
What if I smell natural gas?
Leave the area immediately, and make sure others leave as well. Don't turn electrical switches on or off, and don't use any other device that could cause a spark, such as a flashlight. From a safe location, call MidAmerican immediately at 800-595-5325.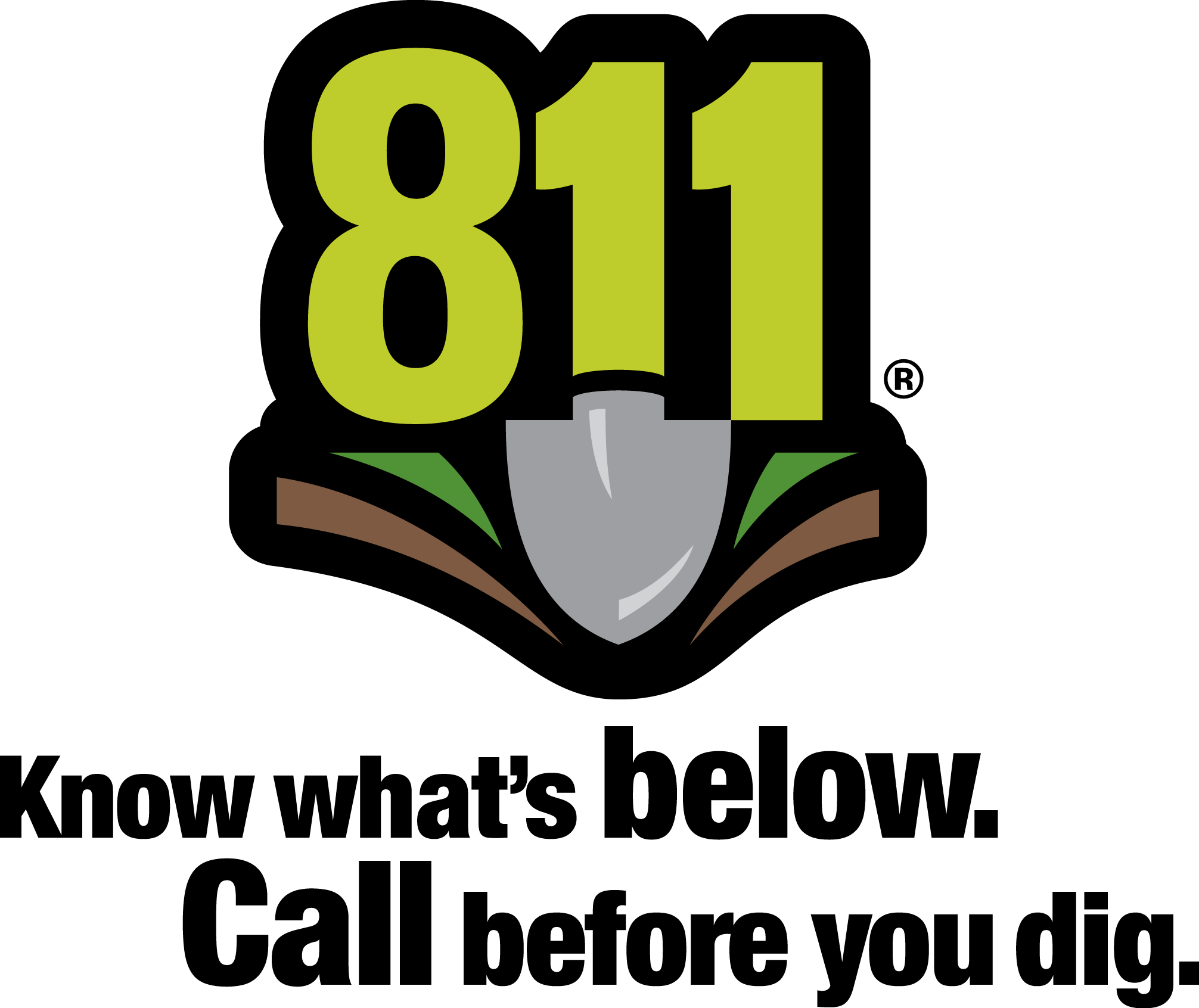 What if I need to dig in the area?
Whether you're a homeowner or a commercial operator who plans to dig, you must first contact your free, local One Call service at least 48 hours (not including weekends or holidays) before digging.
Iowa
Iowa One Call
Dial 811 or call 800-292-8989
Illinois
JULIE (Joint Utility Locating Information for Excavators)
Dial 811 or call 800-892-0123
What if there's a problem with an appliance or gas line on my property?
If we find an unsafe condition with a natural gas appliance or with a customer-owned gas line – the line between the meter and appliances in the home – we may need to delay restoring natural gas service until the customer addresses the safety issue.
If you are moving my meter, can I provide input as to where I would like it relocated?
We will discuss options with you. Our top priority is safety, and we will relocate the meter to a location that is safe, ensures reliable service and is easily accessible.
What if I have additional questions about this project?
Call us at 888-427-5632.
---
STAR
This project is just one of MidAmerican Energy's STAR – Safety Though Asset Reliability – programs. STAR is comprised of the numerous, ongoing improvements we're making our energy infrastructure so we can continue to provide safe and reliable service to our customers each and every day.
Learn more