At work for you 24/7, no matter the weather
When the power goes out, every minute counts for our customers. That's why our crews work around-the-clock to restore power quickly and safely. Severe weather is the usual culprit.
How to report an outage, downed power line or damaged pole
Customers can report a power outage, downed power line or damaged poles on our
outages page
. Or call us toll-free at 800-799-4443.
Register for
My Account
and sign up to receive outage-related electric service restoration text alerts or email messages. Once you have registered to receive outage alerts, we'll proactively notify you if we're aware of an electric outage affecting you and keep you updated on service restoration progress in your area.
If you have not received a text or email from us for an electric outage that is affecting you, please
report the outage
online or call us.
Power Outages
Restoring Power
Safety Kit
---
Although we pride ourselves on our 99% reliability rating, power outages do occur. We take many proactive measures to avoid unexpected outages, including
responsible tree-trimming
, infrastructure upgrades and annual inspections of our equipment.
STAR
, our companywide initiative, ensures we maintain and update our electric and natural gas delivery systems.
Below are the most common causes of power outages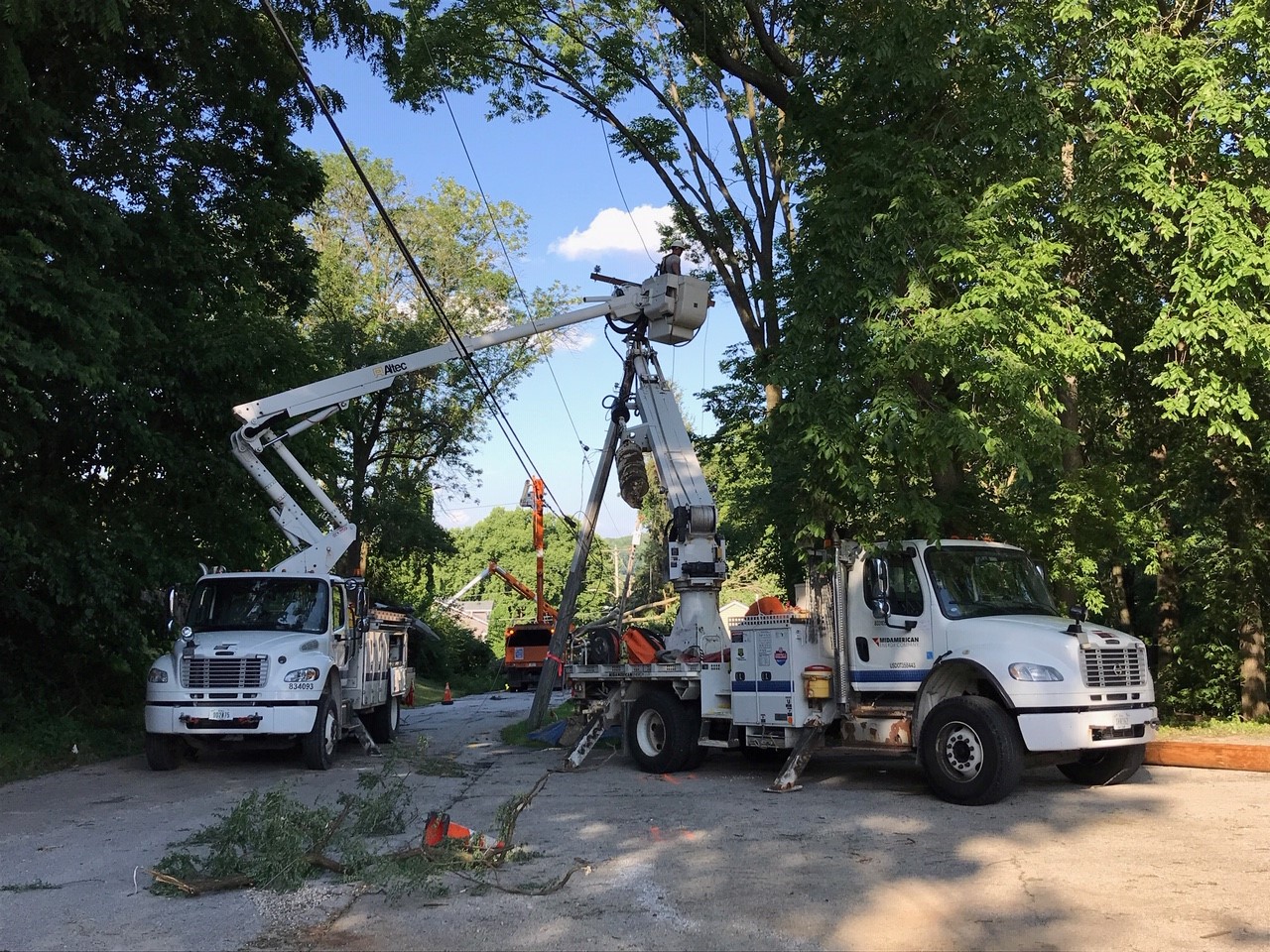 Trees
Tree branches can collapse even in ideal conditions. Tree limbs touching power lines or falling onto electrical equipment are the most frequent cause of power outages. Weather, tree age and pruning all impact how often trees interfere with your power. Falling branches often cause a power surge or flickering.
Lightning
Lightning often strikes tall objects like trees, utility poles, wires and transformers to serve as a conductor. When lightning strikes electrical equipment, it can cause a loss of power.
Wind
Any wind can cause tree limbs or debris to break or fall onto power lines, which can cause dimming lights or an interruption of service. Severe wind can also break or damage poles and electrical equipment, causing service interruptions.
Ice and Snow
Buildup of snow and ice can become heavy and cause power lines to break. Tree limbs weighted with snow can also break and fall on power lines or break poles.
Rain and Flooding
Heavy rain and melting snow can both cause flooding. Flood waters can damage above ground and underground electrical equipment. In some cases, city inspectors require energy companies to temporarily turn off service to certain areas to protect the public from electrical hazards.
Vehicle Accidents
Vehicles coming into contact with utility poles is a common cause of power outages.
Animals
Small animals, such as squirrels and birds, frequently come into contact with transformers, fuses or other energized equipment. Contact from animals can cause a fault, which is an interruption in the flow of power that can make your power flicker or go out.
Watch
how we install equipment in our substations to help prevent small animals from coming into contact with energized lines.
Digging
Contractors, landscapers or homeowners can damage underground electrical equipment when
digging
. If you are planning to dig or hiring someone to dig on your property, remember to call 811 two days before to have underground utility lines marked.
Poor Connection or Faulty Equipment
Customer-owned electrical facilities such as lines after the meter and wires to outdoor lights or outbuildings may malfunction and cause outages. Contact a qualified electrician to have facilities inspected regularly. Learn what equipment is the
homeowner's responsibility to repair
.
Planned Interruptions
To maintain and repair our equipment safely, we may schedule planned outages in some areas. You will be notified 48 hours in advance of a planned outage.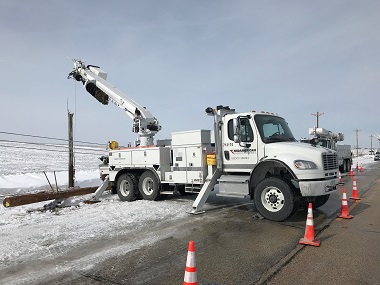 We respond immediately to reports of an outage. Locating the source of a power outage without service crews physically inspecting electric lines and equipment can be difficult, especially during storms or at night. In many cases, during severe weather, roads are impassable, adding to the challenge of restoring service safely.
That's why we are installing hundreds of smart devices, called remote fault indicators, to electric lines to help restore service more quickly if an outage occurs. The devices instantly transmit outage and location details to MidAmerican Energy control room operators if they detect a service interruption.
Once it is safe for our crews to travel into your area, they will first drive through to assess the damage, and then return later with equipment and personnel to make repairs.
As we assess damage, and evaluate the equipment, personnel and time needed to make repairs, we take these factors into account:
Broken poles

Damaged transmission towers, poles and lines

Damaged substations and locked-out circuits

Fallen feeder and distribution lines

Trees and branches on lines

Neighborhoods sustaining the most damage

Number of customers affected