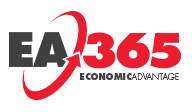 A vision and strategy for vibrant, growing and sustainable communities starts with strategic partnerships with strong local, regional and statewide leaders. Through dynamic partnerships come diverse perspectives, stronger initiatives and more impactful outcomes. We take our role and responsibility as your utility provider seriously and it is foundational to our commitment to you and our partnership. In fact, we are more than a utility provider – we are your partner that supports all aspects of economic development to create a sustainable today and tomorrow. Additionally, we promise to collaborate and tackle critical work areas together by bringing resources and expertise so our customers and communities will grow and thrive. "Obsessively, relentlessly at your service" is more than a tagline – we are here for you 24 hours a day, 7 days a week, 365 days a year. To reinforce this commitment, our EconomicAdvantage365 program was born.
To strengthen and elevate economic development efforts, we think big, bold and different, and challenge our partners to do the same. We value the importance of being a strong partner and leader in economic development and embrace it every day by bringing experience and expertise to the table. Along with our
EconomicAdvantage team
comes programming that is created to incentivize projects and initiatives that align with strategic priorities.
Financial Assistance
The EconomicAdvantage365 program has two pillars of focus with specific and measurable objectives:
Applicants must meet certain
eligibility requirements
and all applications for funding must begin with a consultation with a MidAmerican
business and community development representative
prior to project initiation. If an incentive is awarded, it will be based on the project's scope, quality, identified partnerships and alignment with statewide initiatives. All programs are subject to change and availability of funds.