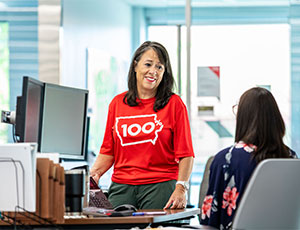 Our corporate offices are scattered around the major metro areas in our service territory – Des Moines, Quad Cities, Sioux City and Council Bluffs. And they're home to our many corporate employees in customer operations, finance, engineering, renewables, communications, community development and more.
Some notable corporate hot spots include our
Customer Experience Center
, which is based in Davenport. Those employees take customer phone calls, dispatch our front-line crews to emergencies and much more.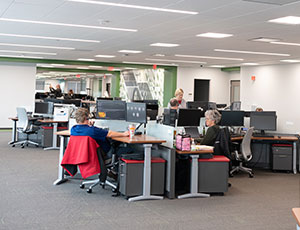 In the Des Moines area, you'll find our accounting and IT teams and the control center, where we monitor our entire grid system to ensure service reliability. See how our team monitors our natural gas and electric grid system in this
Energy Source video
. And, nearby in Adel, you'll find our Safety, Training and Development department working at our new
Training Center for Excellence
.
Whatever your expertise is, we have advancement opportunities coupled with a
quality benefits package
that result in a rewarding career. And, if you're just starting out and searching for learning opportunities, check out our
internship program
.
"Keeping the lights on and the gas flowing is an essential service that we provide to our communities. And, being a part of the teams that do just that is quite rewarding."
- Kathy S., administrative assistant
Pre-Employment Requirements
Employment is contingent upon an acceptable receipt of references, background check, and depending on the business unit requirements, a post-offer, pre-employment physical and/or drug screen. MidAmerican is an
equal opportunity employer
.