Utility-scale solar energy has become an essential part of our efforts to generate energy with net-zero greenhouse gas emissions for our customers. In 2022, MidAmerican Energy completed several solar projects, adding another 141 megawatts of renewable capacity to the
7,300 megawatts of wind capacity
already built. Solar development is another way to provide clean, carbon-free energy to our customers.
MidAmerican's current solar projects in Iowa include:
| Location | MW |
| --- | --- |
| Waterloo solar project in Waterloo | 3 MW |
| Hills solar project near Iowa City | 3 MW |
| Neal solar project near Sioux City | 4 MW |
| Franklin solar project near Hampton | 7 MW |
| Arbor Hill solar project in Adair County | 24 MW |
| Holliday Creek solar project in Webster County | 100 MW |
All of our solar energy projects feature single-axis tracking, which means they move from east to west throughout the day to follow the sun and help generate more electricity. Some of our solar projects are connected directly into the local distribution system, so we know that the energy being produced is being used in the areas where our projects are located. The Waterloo solar project alone has the capacity to serve 650 local average Iowa homes. And, all together, our solar projects will include almost 400,000 solar modules.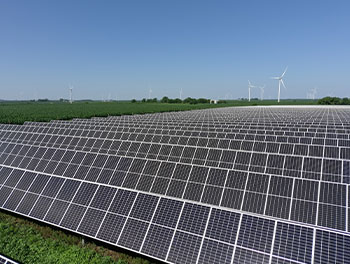 In the next few years, we plan to add an additional 50 megawatts of solar generation with our
Wind PRIME project
– announced at the beginning of 2022. Combined with an additional 2,042 megawatts of wind generation, this project would help allow us to provide 100% renewable energy to our Iowa customers through our
GreenAdvantage® program
and move us forward on the road to
net-zero greenhouse gas emissions
.
If you are interested in private solar generation, you can find more information on the
Customer Energy Generation and Rooftop Solar
page. It's important to note that customers and their installers are responsible for following the interconnection rules of the Iowa Utilities Board (IUB) and Illinois Administrative Code Part 452, and for meeting all MidAmerican requirements.
And, if you're interested in selling your land to MidAmerican to house solar projects, please fill out our
online interest form
.