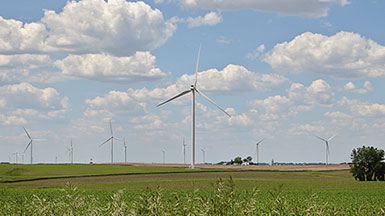 MidAmerican Energy's GreenAdvantage® program allows Iowa customers to claim a verified renewable energy amount to help them reach their sustainability goals.
The Iowa Utilities Board (IUB) verifies the amount of renewable energy produced by MidAmerican in a given year. This verification assures our customers that they are using clean, renewable energy, harvested in Iowa.
And in 2022, we reached a new milestone, meeting our customers' electricity demand with 100% renewable energy!
Last year's record-setting wind allowed our fleet of more than 3,400 wind turbines across Iowa to generate 27,000 gigawatt-hours over a 12-month period. Read our
latest news release
about the IUB 2022 verification and how we plan to meet this goal on an ongoing basis.
GreenAdvantage program benefits businesses, consumers, Iowa's economy
The GreenAdvantage program passes on sustainability benefits to all Iowa customers at no additional cost. Instead of selling renewable energy certificates (RECs) on the market, MidAmerican retires them, which enables business or industrial customers and even residential customers, to claim them and advance their own sustainability goals.
This first-of-its kind value-added program further positions Iowa as a place for businesses with a focus on clean, affordable energy, to expand or relocate in the state. Communities and businesses across Iowa not only operate on clean, renewable energy they also pay the 5th lowest electric rates in the country. It's a competitive advantage that's hard to beat!

Helping businesses reduce their energy usage not only saves them money, it reduces the emissions generated to provide that power – a win-win! Navigating energy efficiency strategies for your business can be hard, so we created Small Business Express, a concierge-style energy efficiency offering that connects small businesses with the best equipment, rebates and contractors to fit their budget.