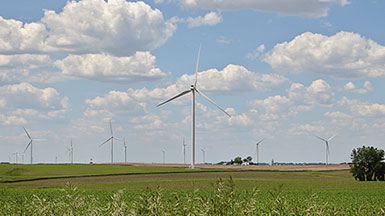 MidAmerican Energy's GreenAdvantage® program allows Iowa customers to claim a verified renewable energy amount to help them reach their sustainability goals.
The Iowa Utilities Board verifies the amount of renewable energy produced by MidAmerican in a given year. This verification assures our customers that they are using clean, renewable energy, harvested in Iowa. In 2021, that amounted to 88.5% of the retail electric load MidAmerican delivered to its Iowa customers.
GreenAdvantage program benefits businesses, consumers, Iowa's economy
The GreenAdvantage program and MidAmerican's leadership both help position Iowa as a leader in clean, renewable energy. This benefits consumers, existing businesses and those looking for new places to locate.
Launched in 2017, the first-of-its kind value-added GreenAdvantage program emphasizes Iowa's commitment to locally produced renewable resources. It also helps companies – especially those that emphasize clean energy – build and maintain a sustainable business in Iowa. It's part of our vision to deliver 100% renewable energy and gets us one-step closer to a net-zero greenhouse gas emissions future.

Helping businesses reduce their energy usage not only saves them money, it reduces the emissions generated to provide that power – a win-win! Navigating energy efficiency strategies for your business can be hard, so we created Small Business Express, a concierge-style energy efficiency offering that connects small businesses with the best equipment, rebates and contractors to fit their budget.