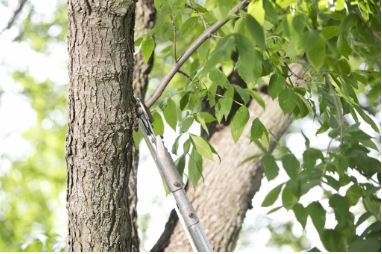 To provide reliable electric service to our customers, we maintain trees along 18,000 miles of electrical lines throughout all areas we serve, based on a three-year cycle. We work closely with our customers to ensure the safety and reliability of our service by keeping tree branches out of the way in a responsible manner.
If you're looking to plant a new tree or put in new landscaping, consider electrical infrastructure such as electric poles and transformer boxes that may be around you, and make sure to plant a
safe distance away to avoid any hazards
and allow for accessibility.
We give you advance notice before we prune
We contact you in multiple ways before beginning tree pruning maintenance in your area, except in emergency situations. When we proactively prune trees, you'll typically receive:
A letter mailed about three weeks before tree maintenance begins in your area.

A phone call, if your number is on file with us.

A notice from contractors completing work in your area. This may include a phone call if we have your number, or a knock on the door alerting you to tree maintenance in your neighborhood.
We may need to enter your property
To trim or prune trees threatening the electric lines, we may need to access your property to ensure the work is completed safely. We strive to notify you before our crew enters your property, unless it's an emergency.
After we've pruned or removed trees
We remove debris only when we proactively prune trees near electrical lines. This debris is turned into mulch and donated to schools, playgrounds and tree nurseries. It's also available for customers to order, free of charge.
When clearing damaged limbs or removing trees after a storm, we make sure the area is electrically safe, but property owners are responsible for removing the debris. We recommend contacting your city or municipality for assistance.
We're always on the lookout
Our forestry services team conducts aerial inspections via a helicopter ride twice a year to monitor over 1,400 miles of high-voltage transmission lines. We also perform ground inspections covering our distribution lines on a routine maintenance cycle of 3-4 years.
Experience our vegetation inspections with this video of district forester Amber Carthey: