Derecho 2020 - a storm like no other
How we restored service after the 2020 derecho
On August 10, 2020, a derecho – a storm with hurricane-like winds – left a trail of destruction across Iowa and Illinois. With more than 290,000 customers without power, we acted immediately to respond to emergencies, assess the damage, repair the foundations of our systems, and get power and gas service restored to all of our customers. From the moment the storm hit until the last service line was reconnected, we did not stop until every customer affected by this unprecedented storm was back on.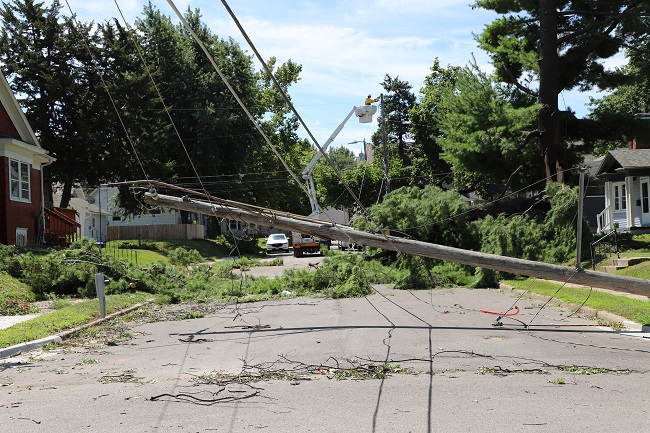 Restoring service, step-by-step
When the storm suddenly intensified to the extreme levels of a derecho, there was significant damage to homes, property and our energy infrastructure. Line workers and gas service teams immediately began working around-the-clock to respond to emergencies and restore service, but efforts were slowed by downed trees, limbs and debris that needed to be cleared by tree crews first. MidAmerican crews providing mutual assistance in New York were called home to aid our efforts, and utilities and contract crews from nearly two dozen states sent help our way, too. At its peak, our total response team was nearly 2,500 strong. From a standing start and in the midst of chaos, we restored service for nearly all our customers in less than 120 hours.
In Cedar Rapids, Iowa, one of the hardest-hit areas impacted by the derecho, our gas crews cleared a record
325 gas leak calls during the first 24 hours after the storm
. That's more than six typical days of work in just 24 hours. Throughout the week, they responded to more than 1,500 gas emergencies and leaks.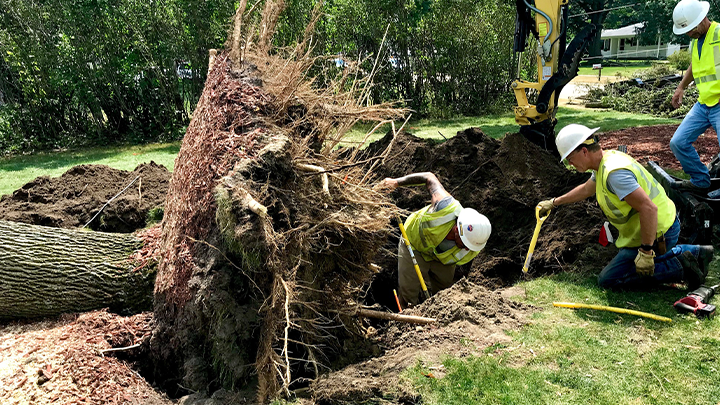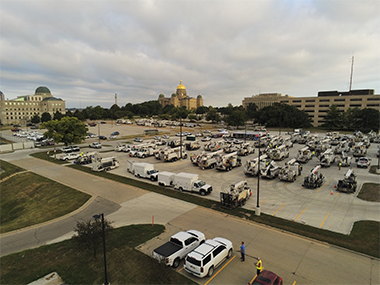 Once MidAmerican customers were restored, we responded to a request for assistance from our neighbor utility Alliant Energy. We sent line workers and support employees, plus equipment, to help with restoration efforts in eastern Iowa.
That's not all, through
MidAmerican Energy CARES
– our corporate citizenship program – more than 200 volunteers went to Cedar Rapids neighborhoods to help with storm cleanup. We also delivered essential supplies and storm cleanup materials to the area in a donation totaling more than $150,000.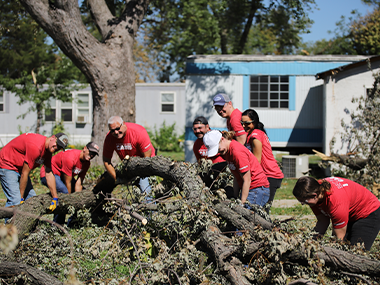 Weathering the storm together
As we reflect on our restoration efforts and the lessons we've learned for future storms with such destructive capability, above all, we are thankful. We are thankful for our employees and their amazing work, for our partner utilities and contractors for assisting us with restoration, and for each and every one of you, our customers, for your patience and positivity as we worked to restore service quickly and safely.
The August derecho affected us all. Whether we were one of the many who lost power, or one of the many more who lent a helping hand to those who did, the destructive storm reminded us of who we are – a community. We're proud to serve you as you went above and beyond for each other, and we are deeply humbled by the support that you showed us throughout our restoration efforts. No matter the weather we face, we are – and always will be – obsessively, relentlessly at your service.
You may also be interested in: