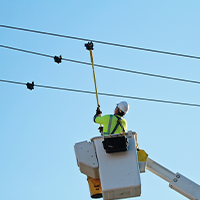 When a power outage occurs, you might think that our service crews need to physically inspect all our electric lines and equipment to find the cause. But thanks to the right STAR technology, that's not the case.
Our power lines are equipped with small electronic devices called remote fault indicators. These smart sensors instantly alert us when and where an outage has occurred when they detect a service interruption.
Without this technology, our crews would need to travel miles – sometimes even on foot if a facility isn't by a roadway – to find the source of a power outage. Even on a good day with clear weather, that could take hours. Having these sensors allows us to quickly identify and contain outages so we can minimize the number of customers affected and get their power restored much faster.
Learn about our other ongoing STAR (Safety Through Asset Reliability) efforts.