Substation Animal Protection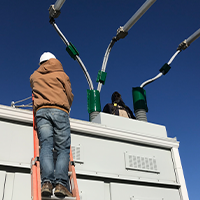 While storms and falling tree debris cause a majority of electrical outages, animals have clawed their way toward the top of the list.

When animals like squirrels, raccoons or birds come into contact with a substation, it can lead to a widespread and costly outage – not to mention that it's deadly to the animals. That's why we fortify a growing number of electric substations with equipment designed to protect them from outages caused by wildlife, including fitted covers to shield exposed substation components from animal contact.
Watch how these covers make our system more reliable by protecting substations from animal contact and outages, while also protecting wildlife.
Learn about our other ongoing STAR (Safety Through Asset Reliability) efforts.