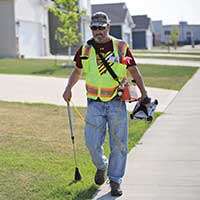 Every year, our gas team and contract partners work to survey our natural gas pipelines and facilities through gas leak surveys. This is a routine inspection to proactively monitor our gas delivery systems and ensure they meet our high safety and reliability standards.
Throughout the summer and early fall, we will gradually move across every community in our service territory to perform these inspections.
Frequently Asked Questions
What is a gas leak survey and why are they done?
This is a routine inspection to proactively monitor and inspect our natural gas pipelines and facilities in your area.
If a gas leak is found, what happens?
Depending upon the level that the leak is graded – 1, 2 or 3 – several things could happen.
1: There is an immediate potential threat to life or property and a crew will be dispatched immediately to repair and eliminate the leak.
2: The leak will be rechecked within a year and a repair will be made within 15 months of leak discovery.
3: The leak is considered non-hazardous and is expected to remain that way.

If the leak becomes more severe over the course of subsequent surveys, it will be reclassified and repaired according to the grading schedule. Remember to call us immediately, at 1-800-595-5325, if you suspect a natural gas leak at your home or business.
When will you be visiting my home to do a gas leak survey?
We will visit every community in our service territory, typically between May and October. Specific homes/buildings surveyed are determined by various factors (i.e. business vs. residential, protected steel vs. plastic pipe).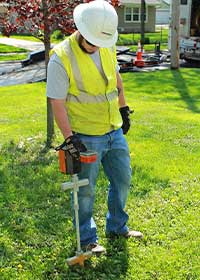 Do I need to be present when the gas leak survey is done?
No, you do not need to be present when our representative performs the gas leak survey.
How will I know when a gas leak survey is being performed?
Because the work can be done so quickly, it's likely that you won't even see the survey being done. But if you do, you'll see a MidAmerican employee or contractor in appropriate personal protective equipment (PPE) – such as a neon-colored vest and MidAmerican-identified clothing – on foot, carrying the survey tool, walking meter to meter. They will also have company-issued identification badges.
How long will the survey take?
Just a few minutes! You'll see us in and out of your yard in no time.
What if I have pets or my gas meter is inside a locked fence/gate?
If a leak surveyor finds the meter location to be locked or presents a safety concern due to the presence of pets or other factors, they are instructed to knock on your door to gain access. The crew will follow through with the survey only after pets are restrained or after the gate to the premise is unlocked and verified secure. If they are unable to reach you or another occupant, they will leave behind a yellow MidAmerican door hanger with instructions to call back to schedule a time for entry. If no callback is received, further attempts will be made to try and reach you in person.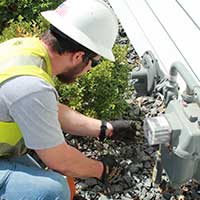 What is the tool used to do a gas leak survey?
A flame ionization (FI) unit is used to perform these surveys. The unit has an internal open hydrogen flame. As carbon ions from natural gas pass through the flame, an alarm will sound to identify the presence of a leak.
What if my gas meter is indoors?
For residential indoor gas meters, we conduct periodic inspections of our gas piping and meters. Prior to these inspections, letters are sent to affected customers notifying them of our need for access. For business customers, we conduct inspections of our gas piping and meters on an annual basis.
Learn about our other ongoing STAR (Safety Through Asset Reliability) efforts.