Transmission Line Aerial Inspection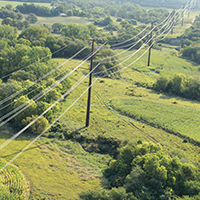 Our forestry services team conducts aerial inspections using drones, and twice a year we conduct an aerial inspection via helicopter to monitor over 1,400 miles of high-voltage lines. This helps us be proactive trimming trees that threaten our power lines.
Experience our vegetation inspections with this video of district forester Amber Carthey.
Learn about our other ongoing STAR (Safety Through Asset Reliability) efforts.