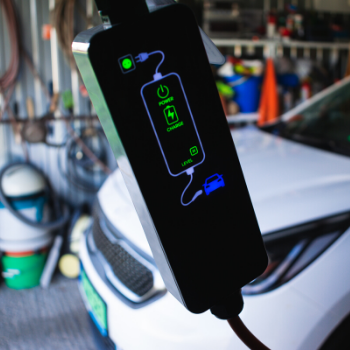 Charging your electric vehicle
There are three levels of electric vehicle (EV) chargers:
Level 1 – Uses a standard 120-volt outlet. Most plug-in electric vehicles will require 8 to 12 hours to fully charge.
Level 2 – Uses a 240-volt rated charging station. Charging time is typically 4 to 8 hours.
Level 3 – DC (direct current) quick charge uses a 480-volt connection. Charging time is 30 to 45 minutes. These are the level of chargers that make up our DC fast-charging network across Iowa.
Charging equipment and station costs vary depending on the configuration of your home or business' electrical circuits, local code requirements and the type of equipment installed.
Before installing an electric vehicle charger
Reach out to an electrician and ask them to assess your current electric service line and panel for capacity to serve an electric vehicle charging station. Depending on the results of this assessment, your electrician may determine that your electrical service and panel will need to be upgraded prior to installing charging equipment.
If your electrician recommends an upgraded service, contact MidAmerican Energy at 888-427-5632 prior to installing a charging station at your home or business. A representative will:
Meet with you and conduct an evaluation to confirm that electric facilities need to be upgraded. If upgrades are needed, the property owner may be required to pay a portion of costs related to the upgrade.
Prepare a facility upgrade estimate, if necessary. If you approve the estimate, MidAmerican will complete any necessary facility upgrades.
Notify you when it is safe to install and operate your new charging station.
When to use your EV charging station
The best time to charge a vehicle is at night or on weekends during off-peak hours, when electricity demand and costs are lowest. MidAmerican does not offer special rates for vehicle charging; however, we do offer optional residential
Time-of-Use rates
, which may provide savings to customers who have the ability to shift significant usage, including electric vehicle charging, to nights and weekends. Call 888-427-5632 for more information about optional rates.