Nonresidential Energy Solutions
The Nonresidential Energy Solutions program provides solutions and services tailored to your business needs. The program promotes comprehensive energy efficiency for existing commercial, industrial, multifamily and agribusiness buildings and facilities through two offerings:
Small Business Express
and
Direct Project Assistance
.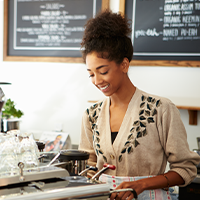 Small Businesses Express
If you are a small business customer,
Small Business Express
is for you. This streamlined process is a one-stop shop delivered by Qualified Service Providers that will identify energy-savings opportunities, establish a plan and complete the installation of improvements while reducing your out-of-pocket costs.
If you are a larger customer, Direct Project Assistance will meet your needs. It includes system-specific engineering consultations, project evaluation services and project support for mid-to-large facilities typically more than 50,000 square feet with total energy costs greater than $100,000.
Ready to get started with Direct Project Assistance?
Direct Project Assistance Incentives
Direct Project Assistance offers a variety of incentives:
Standard prescriptive rebates similar to those offered in MidAmerican's Nonresidential Equipment program.
Custom incentives for cost-effective energy-savings projects not eligible for prescriptive rebates. These rebates are calculated based on first-year savings and according to the improvements made.
| Improvements | Incentives |
| --- | --- |
| Electric | $0.12-$0.18/kWh |
| Natural Gas | $1.50/therm |
Looking to save money on energy bills for your business?
See how you stack up compared to other businesses in the Midwest and what activities are costing your business the most. Find tips specific to your business: