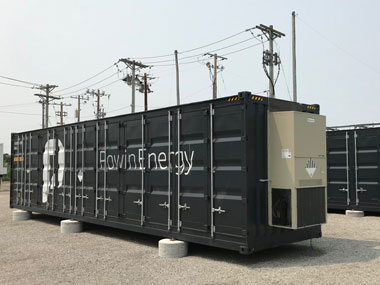 Did you know that when the wind blows through our fleet of approximately 2,600 wind turbines across Iowa, it sends power right to the grid? That allows MidAmerican Energy to deliver clean, renewable energy to our customers.
But what about when the wind blows and customer demand is low — at night, for example? Or times when the wind dies down and customer demand is high?
Wind turbines can't store the energy they produce for us to use later. So MidAmerican Energy is testing a utility-scale energy storage system. Our pilot project 1-megawatt battery storage facility, announced in November 2018, is now operational in Knoxville, Iowa. It provides 4-megawatt-hours of storage capacity, or enough electricity to power nearly 900 average Iowa homes for up to four hours.
"One of the biggest issues with renewable generation is that it's intermittent," Mike Fehr, vice president, resource development, said. "The ability to pair renewable generation with a battery is a great step forward in our ability to continue to provide low-cost, renewable energy to our customers."
Got two minutes? Watch this MidAmerican Energy Source video to learn more:
"Energy storage has the potential to allow us to retain energy when customer demand is low and release it during peak usage times. As the cost of energy storage continues to fall, that will give us new options to manage peak loads, enhance overall reliability and help keep electric costs low and affordable for our customers."

- Mike Fehr, vice president, resource development