There are everyday supplies that can make outages much more manageable while we work to get the power back on. We recommend you pack an emergency safety kit as part of your
storm safety plan
. You likely won't need every item in your kit during outages that only last a few hours. But, in the event that severe weather or other circumstances cause a longer outage, you'll be glad to have everything you need in one place.
Consider including these items in your safety kit: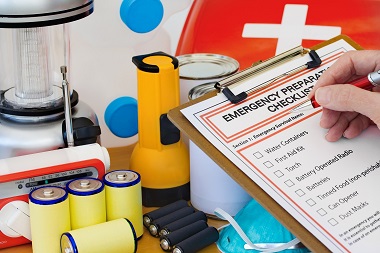 Flashlights
Battery-powered radio
Wireless chargers for your cellphone or mobile devices
Spare batteries for your flashlights, radio and wireless chargers
Blankets and/or warm clothing
First-aid supplies
Spare baby care supplies (if applicable)
Pet supplies
A three-day supply of nonperishable food and water for everyone in your household (NOTE: Some foods in your unpowered refrigerator may not be safe to eat during or after an outage. Refer to this food safety guide for more details)
A manual (non-electric) can opener
Extra cash (in case local ATMs are also down)
Storing your safety kit
You should keep your safety kit somewhere in your home that's easy to find in the dark and that anyone could access in case of an emergency. Make sure everyone in your family knows where to find your safety kit and that your children know what to do in case an outage happens while they are with a sitter or home alone.
Medical equipment
If you or someone in your care has a condition that requires continuous or special medication or life support systems, or if your medications require constant refrigeration, contact your doctor and
enroll in our Life Support program
.
You may also be interested in: