How to prepare for storm emergencies
When severe weather hits, you don't want to spend your time trying to figure out what to do. If your household or business has a safety plan that everyone can quickly refer to in an emergency situation, you'll find you spend less time on making decisions and more time on making sure everyone stays safe.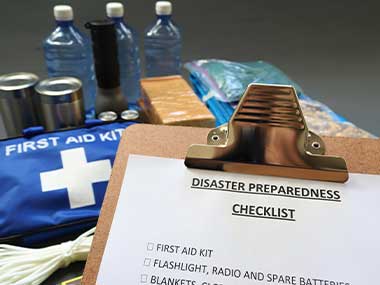 Consider addressing the following factors in your safety plan:
Documents – Know where your important documents are so that before severe weather hits, you can gather them together and place them in a waterproof container for protection.
Essential devices – If you know severe weather is incoming, ensure all your electronic/mobile devices are charged. Be sure to have a battery-powered radio on hand as well to monitor the weather.
Generators – If you plan to use a portable generator as a power source, be sure you know how it works and how to safely operate it before severe weather hits. Never run a portable generator inside or near a building. If you have a standby generator, make sure it has a manual or automatic transfer switch. This switch will isolate your home circuits from power lines. A generator that doesn't have this switch can backfeed electricity into main power lines, which is a shock hazard both for you and utility crews.
Medical Equipment –
If you or someone in your care has a condition that requires continuous or special medication or life support systems, or if your medications require constant refrigeration, contact your doctor and
enroll in our Life Support program
.
Pets – Make sure your outdoor pets are brought inside before a storm hits. Have arrangements in place in case you need to evacuate to an emergency shelter, as animals may not be allowed there.
Roles and responsibilities – Determine beforehand who in your household or business will take care of gathering animals, retrieving your safety kit, etc.
Shelter – Pick a designated location to seek shelter during severe weather. In the Midwest, this is often the basement or a room away from windows or sharp objects. If possible, check on those with special needs or otherwise have difficulties seeking shelter during severe weather to ensure they have arrangements in place.
Vehicles – Make sure your vehicle has gas or your electric vehicle is charged before the storm, in case you need to evacuate.
You may also be interested in: