Power Outage Preparation Tips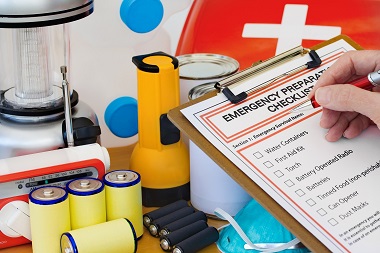 Flashlights
Battery-powered radio
Extra batteries for flashlights and radio
A three-day supply of nonperishable food and water for everyone in your household. Not sure if your food is safe after a power outage? Check out this food safety guide.
Manual can opener
Blankets and warm sweaters
First-aid supplies
Extra cash (in case local ATMs are down)
Plan ahead
Store your safety kit in a place that's easy to find in the dark and make sure everyone in your family knows where it is kept. Review with children what to do if an outage happens while they are with a sitter or home alone.
Make arrangements for medical equipment
If you or someone in your care has a condition that requires continuous or special medication or life support systems, or if your medications require constant refrigeration, contact your doctor and enroll in our
Life Support program
.
Stay safe during and after a power outage
If a power outage occurs, first check your fuses or circuit breakers to rule out a blown fuse or tripped breaker. If it is not a problem inside your home, report your outage immediately. Report your outage online. Reporting your outage helps our crews to pinpoint the issue and restore your power faster.
Monitor the outage restoration process by listening to radio reports, viewing our outage map or following updates on social media.
Unplug computers, TVs, electronics and other sensitive appliances to avoid possible damage when electricity is restored.
Turn off all but one of the lights that were on, so you will notice when electricity is restored. If you have a porch light, leave it on so crews patrolling in your area will know that power has been restored.
Use a flashlight. Avoid candles because of the fire risk.
Turn off heat-producing appliances like electric irons and heaters to prevent a fire in case no one is home when power is restored.
If a standby generator is used, make sure it has a manual or automatic transfer switch. This switch will isolate home circuits from power lines. A generator that does not have a transfer switch can back feed electricity into main power lines, causing a shock hazard for you and utility crews.
When power resumes, reset clocks and check automatic alarms and timers. Plug in only essential items. Wait 10 minutes before connecting the rest of your electronics to let the electrical system stabilize.
Never use a grill, space heater or portable generator intended for outside use inside your home. All can emit deadly carbon monoxide.