Drones: Seeing Safely from the Sky
It's a bird, it's a plane, it's a – drone? Normally, reliable equipment – like using a bucket truck to assess damage and repair a power line – gets the job done. But sometimes, we need an even better view to complete our work quickly and safely. So, we use a fleet of drones!
Our team of FAA-certified drone pilots have the proper training to safely operate our drone fleet where it's needed. And you might be asking: When are drones needed for utility work? We find new uses all the time.
Here are some examples: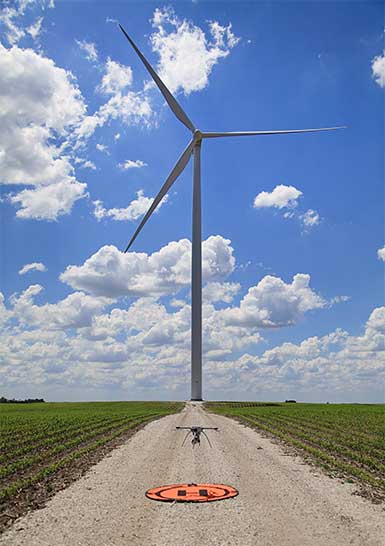 Drones can be used around our substations, above our power lines and even at the top of our wind turbines.
In the past, bigger inspections could only be done via helicopter or airplane – and they are still beneficial for things like overall
transmission line inspections
– but now we can take a quicker and safer approach in certain scenarios. And the faster we can pin down the issue and fix it, the faster we can restore service to our customers.
Drones can inspect hard-to-reach places like natural gas pipeline under a bridge.
It's easy to forget about spaces like this, but believe or not, there could be natural gas pipeline under that bridge you drive over every day! A drone can inspect these quickly and safely. If the terrain around equipment is unsafe, like flooded or storm-damaged areas, drones allow us to complete our inspections without putting any of our valuable crew members at risk.
Drones can also help us prevent breakdowns before they happen with their infrared capability.
Some of our drones are equipped with infrared cameras. Using heat signatures, we can easily identify whether things are working normally or if there are signs of trouble ahead. With this advanced technology, our crews are able to take safety and reliability to new heights.
You may also be interested in: