DMU powers students' education at new energy-efficient campus
Des Moines University (DMU), a medical and health sciences university located in the heart of Iowa, accepted nearly $1.2 million in construction rebates after participating in MidAmerican's
Commercial New Construction
program. The
88-acre campus
includes several buildings in West Des Moines with a variety of classrooms, offices, research labs, a simulation center, a wellness center and more, all served by a central high-performance geothermal system.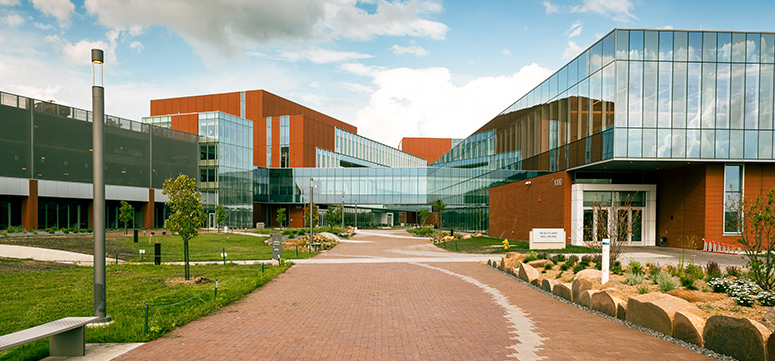 The new campus will be LEED-certified at the silver level by the U.S. Green Building Council. Plus, the facility is 54% more energy efficient than average buildings of the same size, allowing the university to save on operational costs for years to come. With these upgrades, the university is saving enough energy to power 650 homes for an entire year.
"Des Moines University's mission is preparing future professionals to help individuals and communities achieve and maintain good health. We strive to contribute to the planet's health, too," Angela Walker Franklin, DMU president and CEO, said. "That's why incorporating energy-efficient buildings and features has always been a priority as we planned, designed and built our new campus."
Our Commercial New Construction program offers companies that are expanding or building new facilities free energy modeling and design services, along with construction rebates based on verified electric savings from the systems they install.
DMU took a big step in fostering a cleaner, more sustainable future with the program. Some of the energy-efficient measures in the new West Des Moines campus include:
A ground-coupled heat-pump system that can handle heating and cooling loads simultaneously
An efficient lighting design that uses 50% less energy, featuring lights that automatically dim when sunlight is present
Regenerative elevators that produce electricity while braking
An automatic ventilation system that adjusts based on occupancy
A system to recover and repurpose heat from exhaust air
Not to mention, the new campus is powered by renewable wind and solar energy generated right here in Iowa. And, in 2022, we hit an exciting milestone! Record-breaking wind speeds across the Midwest in 2022 allowed us to deliver 100% renewable energy to our Iowa customers over the course of the year. Once approved by the Iowa Utilities Board, our Iowa customers get to claim this amount through our
GreenAdvantage® program
and move closer to their own sustainability goals.
Is your business building a new facility and looking to save energy and money in the new space?
Get started with our Commercial New Construction program by applying to have your project evaluated. Call 877-939-1874 or email
CNC@willdan.com
to discuss your needs.
You may also be interested in: