Customer Experience Center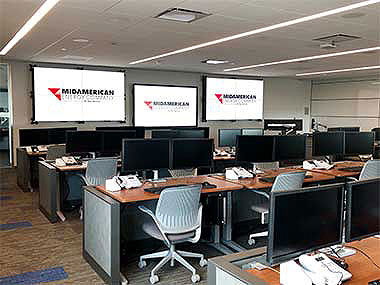 At MidAmerican, we strive to provide our customers a welcoming experience where their questions are answered, concerns are addressed and they feel we're taking a proactive approach to any issue they may have. This customer-first approach is why we've been rated No. 1 in customer service by J.D. Power for 13 of the last 14 years!
When you begin as a Customer Experience Agent, you'll be stepping into what we hope is a dynamic, fulfilling career with MidAmerican. And, if working from home is better for your lifestyle, that is now an option with our Remote Customer Experience Agent position! Read how a few of our employees took their customer experience to new career heights.

When you work as a Customer Experience Agent, remote or in person, you'll be eligible for incentives such as:
Retirement savings plan 401(k)
Hands-on training

When you work as an in-person agent, you'll work from our newly remodeled workspace in Davenport, which includes:
An open floor plan that ensures a collaborative work environment
An onsite employee wellness center
Paid parking in the city ramp
Engaging and environmentally focused surroundings

When you work as a remote agent, you'll have the opportunity to:
Complete your workday from the comfort of your home
Avoid commuting to work
Utilize virtual collaboration tools