Getting your power back on safely
We respond immediately to reports of an outage. Locating the source of a power outage without service crews physically inspecting electric lines and equipment can be difficult, especially during storms or at night. In many cases, severe weather can make roads impassable, adding to the challenge of restoring service safely.
That's why we have hundreds of
smart devices
called remote fault indicators along our electric lines to help restore service more quickly if an outage occurs. These devices instantly transmit outage and location details to our control room if they detect a service interruption.
Once it is safe for our crews to travel into your area, they will first drive through to assess the damage, and then return later with equipment and personnel to make repairs. Watch our crews in action in the video below.
As we assess damage and evaluate the equipment, personnel and time needed to make repairs, we take these factors into account: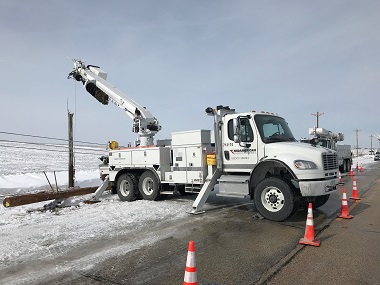 Broken poles
Damaged transmission towers, poles and lines
Damaged substations and locked-out circuits
Fallen feeder and distribution lines
Trees and branches on lines
Damage to customer-owned equipment like a weatherhead or meter box. Learn what equipment on your property is owned by you and what is owned by us.
Neighborhoods sustaining the most damage
Number of customers affected
Our storm trailers allow us to bring supplies and equipment on site to damaged areas and restore power efficiently and safely. Learn how we
prioritize repairs and restoration work
after severe weather causes several thousand outages.