How our wind turbines power through harsh Iowa winters
During the polar vortex in February 2021, you may have seen news stories about wind turbines in other states failing to stay operational at freezing temperatures. Meanwhile, more than 90% of MidAmerican's fleet stayed operational through the extreme cold.
So why didn't our wind farms have the same problems that plagued other utilities during February 2021's cold snap? There are many factors that came into play, but ultimately, the key difference came down to one thing: preparation.
Through our investments in cold-resistant technology and the diligent preventative maintenance we perform, our wind turbines are well-prepared to provide our customers with safe, clean and reliable energy even during Midwest winters.
Investing in extra protection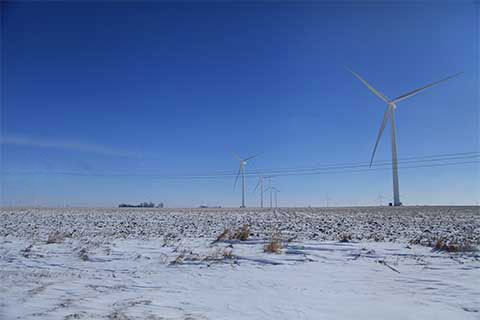 We add optional cold weather packages to every single turbine in our fleet. These system upgrades help keep our turbines spinning in temperatures as low as -22 degrees Fahrenheit. Some of our turbines performed in even colder temperatures during February 2021's polar vortex!
As part of this cold weather technology, each turbine's critical metal components are manufactured with cold-resistant steel to help them withstand Iowa winters. We also install fan heaters in the nacelles.
"The nacelle is essentially the heart of the whole turbine generator system," Anne Pham, MidAmerican wind operations manager, says. "So, we definitely want to make sure that area always stays warm."
Other components of the turbines are equipped with special heating elements to protect the electrical systems – like the gearbox, sonic wind sensor, and more – from condensation or freezing temperatures.
If ice does form on a turbine blade, that can affect the balance of the turbine as well as its performance. Our blades are equipped with systems to detect ice and shut down a turbine until the ice has melted and it can operate safely.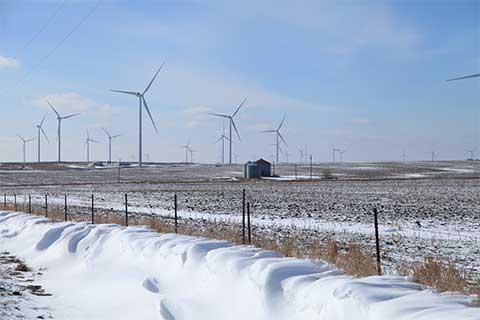 "Only under very rare circumstances does the cold weather force us to shut a turbine down," Pham says. "When that happens, we keep idle turbines warm to continue protecting their systems and ensure they're ready to go once the blades are safe to spin again."
Proactive winterization
It takes more than extra equipment to keep our turbines spinning in extreme winter conditions. We take preventive measures every year to prepare our turbines for winter before the cold season even begins.
"Think of it like when you're changing your car's oil during the winter," Pham says. "Cold contracts things, so the viscosity of the oil is different. We have to switch out fluids like coolant or grease for various components with weather-appropriate materials to make sure our systems are still well-lubricated and running smoothly."
Additionally, we adjust the computer algorithms that control each turbine to operate more reliably during the winter months. Those adjustments factor in higher air density at lower temperatures, changes in air pressure and other winter conditions that impact turbine performance.
Always looking ahead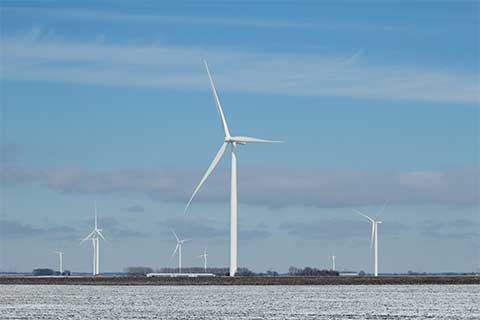 During those weeks in February 2021 when it felt like it couldn't get any colder, our team was planning the process of gearing our turbines up for the warm weather to come.
"It goes without saying that we prepare for this," Pham says. "Even during peak winter months, we're performing the preventative maintenance necessary to make sure our turbines stay safe and reliable, not just for our customers, but for our partner landowners and our people who work inside the turbines, too."
The seasons in Iowa may feel long sometimes, but the next one is always coming sooner than you think. Our wind fleet's ability to withstand the winter just goes to show that with the right planning, the right technology and the right processes, the turbines in our fleet are a shining example to the rest of the world of what clean, safe, reliable energy can look like.
You may also be interested in: