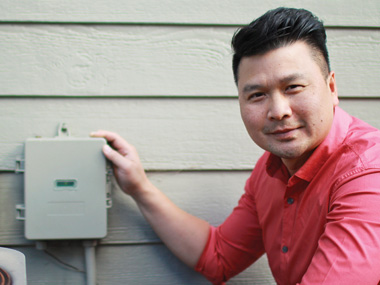 When demand for electricity is the highest, help save energy by allowing MidAmerican Energy to control your home air conditioner compressor or air-source heat pump. Participating Iowa and Illinois customers receive an annual rebate.
How it works
MidAmerican Energy installs a small cycling device on the siding of your home near the central air conditioning unit. The device is wired into your existing thermostat control circuit and acts as a switch, allowing us to cycle your air conditioner or air-source heat pump on and off only on the hottest weekdays from June 1 to Sept. 30. Air conditioners or air-source heat pumps are cycled between approximately 2 p.m. and 7 p.m., or for shorter periods between 2 p.m. and 7 p.m., depending on actual need (but never on weekends or holidays).
SummerSaver℠ incentive and how to participate
As a participant, you will receive a $30 end-of-season incentive the first year and a $20 incentive in following years, if you participate the entire cycling season. If participation begins or ends during the four-month period, MidAmerican Energy will prorate your incentive accordingly.
To participate, call 800-437-2976 and an enrollment card will be mailed to you. Participation is limited and is available on a first-come first-served basis. Customers requesting participation may be placed on a waiting list.
Caution: SummerSaver℠ is not recommended for households with occupants who have health problems such as asthma, heart disease or respiratory conditions.