Proposed Five-Year Energy Efficiency Plan-Iowa (2024-2028)
MidAmerican Energy recently proposed its next
five-year energy efficiency plan
for review and approval by the Iowa Utilities Board. For your investment of less than a few dollars per month, electric and natural gas residential customers in Iowa have access to programs that offer money and energy savings well beyond this minimal cost.
You should have received a
brochure
in the mail detailing the proposed 2024-2028 energy efficiency plan. This notice included all regulatory required information, program highlights and an overview of the plan's annual costs. But without context or your monthly statement easily accessible, the numbers can be hard to understand.
Breaking down the numbers
Energy efficiency programs are included as line items on your monthly bill, called the Energy Efficiency Charge and the Demand Response Charge. The images below show the current rate and the proposed rate for the enhanced energy efficiency programs under review.
To understand the impact we applied the proposed rate to a real bill for a typical residential electric customer in Iowa, resulting in an increase of only $0.85 for this particular month.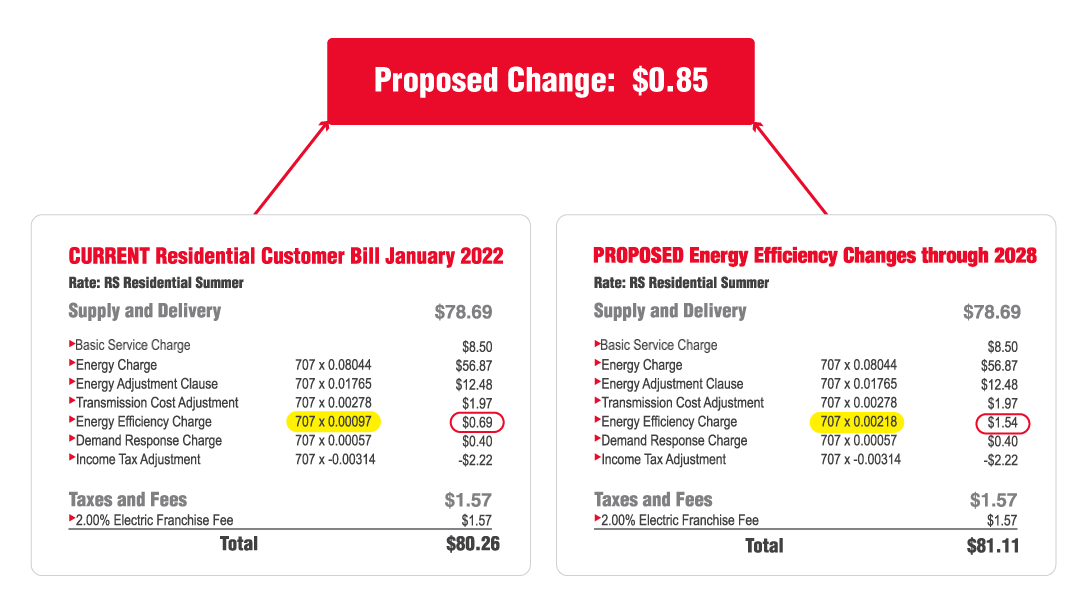 When would this increase go into effect?
Filing the plan is only the beginning of the process. The IUB will review the proposed plan and consider public comments before deciding on whether to approve it by January 1, 2024. The plan as submitted would help Iowans save more than 207 gigawatt-hours of electricity and 1.7 million therms of natural gas per year.
For more information about this proposed energy efficiency plan, please call us at 888-427-5632 or email energyefficiencyplan@midamerican.com.