Understanding Peak Alerts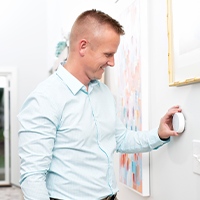 What is a Peak Alert?
MidAmerican Energy notifies Iowa customers in the summer when high temperatures could result in a high demand for electricity. This notification is called a Peak Alert. Customers will be notified through mass media, social media and online.
When necessary, Peak Alerts are issued on weekdays in June through September. Peak Alerts are only sent when temperatures are expected to reach the mid to upper 90s and when we are within 98% of our highest generating capacity – known as peak demand. Peak Alerts may also be sent when we are directed by our regional transmission authority to reduce the electric load.
Although MidAmerican Energy has sufficient generating capacity to meet our customers' electric needs at peak demand, when a Peak Alert is issued we ask that customers reduce their electric usage to help us manage peak load conditions.

What should I do in the event of a Peak Alert?
During Peak Alerts, use
energy-saving tips
to help manage your energy use. We ask customers to reduce their electric usage to help manage the electric load demand.
More ways to save
Participate in our energy efficiency programs to save money on your electric bill and be more energy efficient.