How to safely use a portable generator
Portable generators – combustion engines that generate electricity – can be a great way to ensure you always have power when you need it in the event of a major storm. Knowing how to properly use your portable generator is crucial to your safety, as well as that of utility crews working to restore power, and the equipment and circuitry connected to the generator both inside and outside of your home, business or other facility. Consult the operator's manual of your portable generator before you attempt to install or activate it.
Stay safe by following these generator safety guidelines.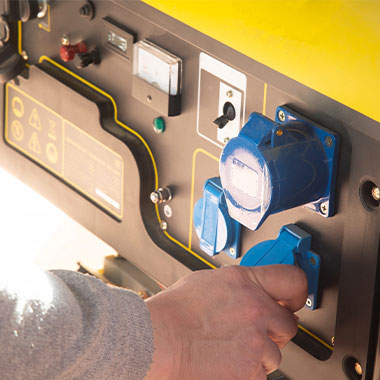 Make sure your electric service panel has a transfer switch before you connect a portable generator to your home's wiring
Connecting a portable generator directly to your electric service panel incorrectly can send electricity from the generator to the power lines connected to your home, endangering utility workers repairing power lines in your neighborhood. An improper generator connection can also damage items plugged into circuits receiving power from the generator.
Install a transfer switch on your electric service panel to ensure a safe generator connection. A transfer switch isolates your home wiring from power lines to allow electricity to run through your home but not back out onto the lines. Without a transfer switch, a generator can send electricity back onto power lines, compromising the safety of our crews and systems. Consult an electrician for guidance on safely connecting a generator to your home.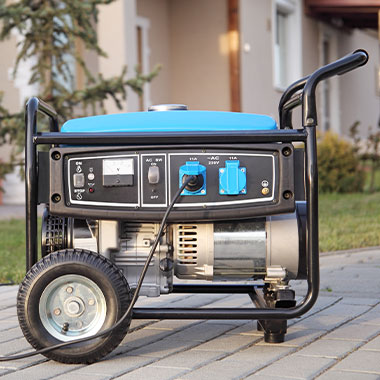 Only use your generator outdoors and away from doors and windows
Portable generators and other combustion-powered equipment can release carbon monoxide (CO) – a colorless, odorless and poisonous gas. To ensure proper ventilation and avoid the risk of CO poisoning, never operate a generator indoors, including a garage. Opening windows and doors may not be enough to prevent CO buildup in an enclosed space. Keep the space clear within 5 feet on all sides of your generator.
Keep your generator completely dry
Never use a generator in the rain or a damp environment. Place a canopy above your generator to protect it from water exposure. If your generator is exposed to water, it must be completely dried out and evaluated before it can be safely used again.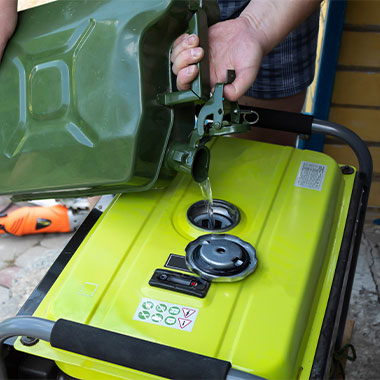 Handle generator fuel with care
Generator fuels like gasoline and kerosene are dangerous fire hazards and must be handled properly. Keep fuel containers in a safe, secure space away from any flame- or heat-producing equipment, including your generator. Never smoke near fuel containers.
Generators heat up during use and can stay hot long after powering down. Generator fuel can ignite if it's spilled onto hot equipment. Always power down your generator and allow it to completely cool before refueling.

We can't predict the impact a severe weather event can have on our systems. But, thanks to the thousands of smart sensors we've installed across our electric lines under our Safety Through Asset Reliability (STAR) initiative, we can quickly find the source of an outage when it occurs.