Do you have what it takes to be a lineman?
You have probably seen one of MidAmerican Energy's line mechanics – sometimes called journeyman linemen, linewomen or electrical line workers – working on power lines near your home or business. Have you ever wondered what it takes to be a line worker?

Our line mechanics and line mechanic apprentices complete challenging and oftentimes very dangerous work around high voltage electricity every day to ensure that when you flip a switch, the lights always come on. From blowing snow, fallen tree limbs or heavy rains, our line mechanics work in extreme weather conditions day and night to safely make repairs and get the power back on for our customers. It's physically demanding work, but also rewarding and prestigious.

So how do we prepare them to protect themselves and our customers while completing their work?
We hire the best of the best
Most people interested in becoming a line mechanic must first earn a certificate or degree from a one-year, approved program. To find a program, search for line programs or utility technician programs at technical colleges near you or across the country. To confirm if a school's certificate program is approved, contact us at 515-281-2707.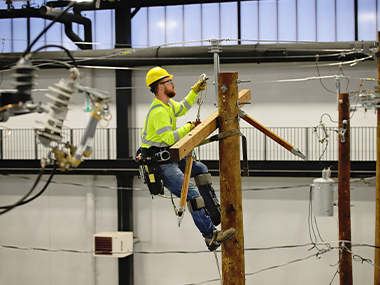 If an applicant does not have a certificate or diploma from one of these programs, an interested applicant will need to start off by applying for what is known as a pre-apprentice position.
This program follows a similar, traditional apprenticeship structure and requires the applicant to complete an additional year of on-the-job learning and educational curricula through the National Joint Apprenticeship and Training Committee (NJATC).
Open line mechanic positions and apprenticeships are posted on the MidAmerican
careers page
. Applications are then reviewed and ranked based on the applicant's qualifications and previous work experience. Next, the top candidates are invited to participate in the interview process and hiring event, which we call the Apprentice Roundup.

MidAmerican's interview process consists of a full-day evaluation, which allows candidates to demonstrate all of their skills and knowledge in person. This in-person hiring event gives our trainers, supervisors and apprentice program facilitators a chance to meet potential line mechanic candidates and see for themselves if an applicant has what it takes to become a line mechanic.
We train the best to be better
Our line mechanics' journeys are just beginning once they've accepted an offer.

The new apprentices are assigned to small group classes, where they work with dedicated line mechanic trainers. Our line mechanic apprenticeship program curriculum is customized to MidAmerican, but designed to meet the standards set by the NJATC, sponsored by the International Brotherhood of Electrical Workers (IBEW).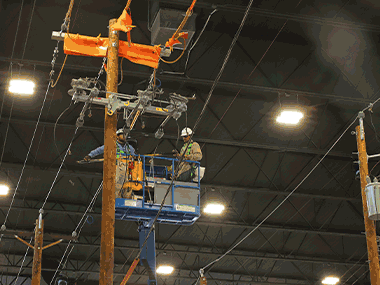 In order to be the best, we also provide our employees the best possible learning environment. Recently, MidAmerican opened the MidAmerican Training Center for Excellence, a state-of-the-art indoor/outdoor facility built specifically to serve apprenticeship and continuing education for our front-line team members. The training center has classrooms, a computer lab, indoor pole climbing arena, mock neighborhood, overhead lab to simulate overhead high-voltage line work, and more. This is all designed to allow apprentices the opportunity to practice in realistic conditions so they're prepared to work in the field.
Never stop learning
Once line mechanic candidates complete their apprenticeship they are celebrated by their peers and continue working out in the field. But their learning isn't done. As new technology is implemented and best practices change, our crews train more so that their skills are always fresh and they are following the latest safety protocols.
A
culture of safety
is what drives line mechanics and all MidAmerican employees to continue learning so that they can return home safely every day. At MidAmerican we also train to have a Brother's Keeper mentality, which means that our workers are constantly watching for hazards that might endanger their co-workers. When things go wrong, we learn from them, with incident reviews and daily safety briefings across the entire business.
It takes a lot to become a line worker at MidAmerican, thousands of hours of training and testing happen behind the scenes before they make it into the bucket truck parked in your neighborhood. So the next time you see a line worker, wave from a safe distance! If you're interested in becoming a line mechanic or working for MidAmerican, visit our
Trades and Field Operations Careers
page.
You may also be interested in: