Contractor Digging Safety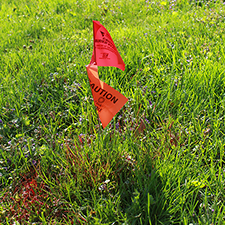 We want you to be safe from contact with our underground electric and natural gas lines, and we want our service lines to be safe from contact with you and your equipment. Accidents from underground utility contacts cost utility owners and contractors millions of dollars in repair and service disruption costs every year. It's your responsibility to dig safely to protect yourself, your crew and the public.
Always call before you dig
Call 811 or your one-call utility notification service before you dig, blast, bore, trench, drill, grade or excavate in any way so that underground utilities can be marked and you can work safely. The local one-call utility notification service will arrange for marking of underground power lines and other utilities so you can keep your distance. If you can white-line your proposed excavation route, locators can more easily mark the affected utilities.
Utility Notification Services
Illinois – 800-892-0123

Nebraska – 800-331-5666
​
South Dakota – 800-781-7474
Never rely solely on utility maps
Utility maps are not updated often, and the markings may be off. The one-call center has the most up-to-date information about buried utilities.
Free safety brochures
Having the right resources can go a long way to keeping best safety practices fresh in your mind and a priority for your team. Get free safety brochures sent to you and your team, or get special on-site trainings from our Emergency Preparedness or Energy Delivery and Integrity teams to make sure you're starting your job with the right practices in place. To request free brochures or training, submit an email request to
PublicAwareness@midamerican.com
with the subject heading "Free Safety Brochures" or "Free Safety Training." Include in the body of the email your name, company/organization, valid mailing address or worksite location and your desired brochure quantity or the number of team members you wish to receive the training.