Contractors and First Responders - Digging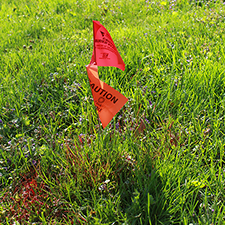 We want you to be safe from contact with our underground electric and natural gas lines, and we want to keep our service lines safe while you work near them, whether you're excavating for a construction project or you're responding to an emergency. Accidents from underground utility contacts can be fatal and cost utility owners and contractors millions of dollars in repair and service disruption costs every year.
Remember, it's your responsibility to dig safely to protect yourself, your crew and the public.
Always call before you dig
Call 811 or your one-call utility notification service before you dig, blast, bore, trench, drill, grade or excavate in any way so that underground utilities can be marked. The local one-call utility notification service will flag underground power lines and other utilities so you can keep your distance. If you can white-line your proposed excavation route, locators can more easily mark the affected utilities.
Utility Notification Services
Never rely solely on utility maps
Utility maps are not updated often, and the markings may be off. Your local one-call center has the most up-to-date information about buried utilities.
What to do if you hit an underground utility