Apply to enter an apprenticeship with MidAmerican and begin a fulfilling career in the energy industry. Earn a competitive salary while you receive hands-on instruction from highly-skilled professionals. Learn the latest advancements in our state-of-the-art Training Center for Excellence and work for a company committed to providing safe, reliable and renewable energy to its customers.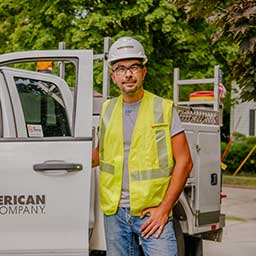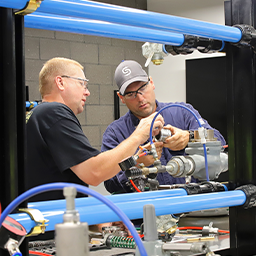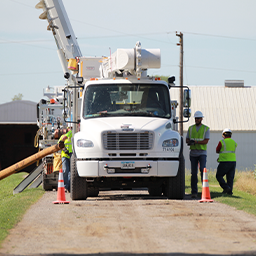 Explore our Registered Apprenticeship® programs
Find the career path that's right for you in one of MidAmerican's Registered Apprentice® programs. To be eligible for one of our trades and crafts apprenticeship programs, you must:
Be at least 18 years old with a high school diploma or GED
Meet specific qualifications for the posted apprenticeship program including passing a pre-employment test
Successfully master the skills to advance to each level of training
The line mechanic apprenticeship program also requires a certificate or degree from a one-year, approved line school. To find a program, search for "electric line programs" or "utility technician programs" at technical colleges near you. To confirm if a school's certification is accepted, contact our electric delivery recruiting team at 515-281-2707.
Find available apprenticeships
| Program | Program length | Starting apprentice salary |
| --- | --- | --- |
| Assistant Unit Operator | 1 year | $40.86 - $41.90 |
| Certified Pipeline Welder | 3.5 years | $34.33 |
| Combustion Turbine Technician | 4 years | $37.94 |
| Electric Meter Technician | 2 years | $34.10 |
| Electrical Service Technician | 4 years | $33.15 |
| Equipment Operator | 2 years | $38.85 |
| Fuel Handling Technician | 1.5 years | $35.18 - $36.64 |
| Garage Mechanic | 4 years | $28.70 |
| Gas Serviceman | 1.5 years | $31.02 |
| Gas Technician | 2 years | $31.48 |
| I & E Technician | 4 years | $35.79 |
| Instrument Technician | 3 years | $41.16 |
| Journeyman Gas | 1.5 years | $30.36 |
| Journeyman Welder | 3 years | $32.74 |
| Line Mechanic | 2 years | $33.60 |
| Machinist/Mechanic/Welder | 4 years | $34.85 |
| Mechanic Welder | 3 years | $33.96 |
| Meter and Control Technician | 3.5 years | $33.02 |
| Substation Electrician | 4 years | $38.28 |
| Substation Electrician Technician | 3 years | $40.80 |