MidAmerican Energy Arena in Adair County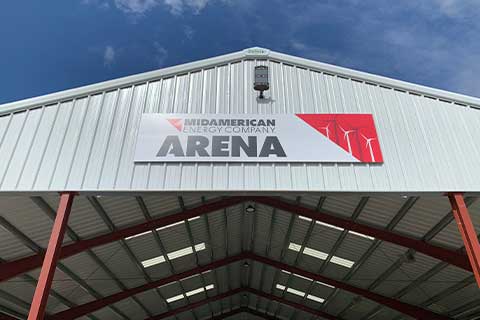 In June 2020, Adair County opened the MidAmerican Energy Arena, the county fairgrounds' newly renovated pavilion. In July, the new arena hosted the dog, hog, sheep, goat and cattle shows during the annual Adair County Fair.
MidAmerican is building multiple wind projects in the county, and committed $83,000 to the fairgrounds project that hosts the fair's animal shows and other community events. The contribution funded the construction of the new show arena – a 70x90-foot, open-sided, steel-framed building.
"It turned out really nice," Roger Tanner, Adair County Fair Board member and landowner participating in the Orient Wind Farm, said. "We built [the arena] big enough to put bleachers in, but weren't able to do that this year due to COVID-19. Even still, we had people bring their lawn chairs for this year's fair, and we still had great shows."
This arena is just one of many projects MidAmerican funds to support the communities that host wind farms. Matt Ott, the project developer who presented Adair County with the check from MidAmerican during the 2019 fair, said that he heard from more landowners about the arena than nearly any other community support project he's been involved in.
"It benefits many of our participating landowners and the entire community, both directly and indirectly, as something that brings their agricultural communities together," Ott said. "I think a lot of them are looking forward to seeing the arena put to even more use."
The Adair County Fair Board is optimistic that the MidAmerican Energy Arena will be used to its full potential next year after the threat of COVID-19 has passed.
"We have some people interested in holding meetings there, possibly doing weddings there," Tanner said. "In the winter, we might be able to store some weather-sensitive vehicles or equipment there as well."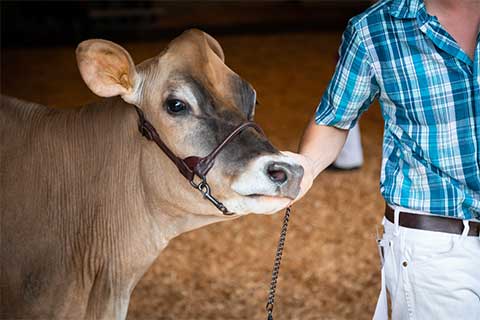 The fair board believes the new show arena could also allow Adair County to host wider-scale events, like the annual Southwest Iowa Shootout, a regional animal showcase competition featuring the winning animals from 11 county fairs. The winners of the shootout go on to compete in the annual statewide All-Iowa Showdown.
"We've got 40 acres, a lot of room, a lot of trees, buildings that are relatively close together, and now this new show arena," Tanner said. "This would be a great place to host events that go beyond our own community."
For the Adair County Fair Board, projects like the arena go a long way in demonstrating the care MidAmerican has for communities like theirs.
"For something like the show arena, we would have had to look for grants, but we've never been able to come up with anything like it, so it was a really positive thing for MidAmerican to do that for us," Tanner said. "The fair board believes [the partner landowner program] is a really good thing. It helps the community out. We're a small community and it means a lot."
You may also be interested in: