Big Sand Mound Nature Preserve
A rare desert ecosystem in the middle of Iowa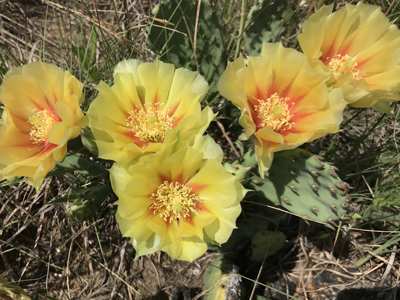 The Big Sand Mound Nature Preserve is located south of Muscatine, Iowa, along the Mississippi River. It is home to a unique, diverse ecosystem of plants and animals and has among the highest concentrations of endangered species in Iowa.
Formed nearly 20,000 years ago by ice sheets, some naturalists describe the preserve as looking more like the Southwest than the Midwest, because of its acres of sand prairies. The sand dunes, or mounds, are nearly 136 feet deep and are home to hundreds of plant species, including prickly pear cactuses rarely found in Iowa. Reptiles, including the endangered yellow mud turtle, eastern hognose snake and six-lined racerunner lizard inhabit the preserve.
"Big Sand Mound is an Iowa environmental treasure. We're proud of our efforts to protect and preserve this unique space that many amazing plants and creatures call home,"

- Jenny McIvor, vice president, environmental policy and chief environmental counsel, Berkshire Hathaway Energy
Partnering to preserve unique Iowa ecosystem

While developing the nearby Louisa Generating Station in Muscatine in 1977, MidAmerican Energy set aside 420 acres for an environmental preserve after site evaluations indicated an ecosystem not typically found in Iowa. In 1981, Monsanto Company added another 90 acres, and together these areas became the Big Sand Mound Nature Preserve.
A committee oversees the property to study, preserve and protect Big Sand Mound's unique ecological community.
Because of its fragile ecosystem, the preserve is not open to the public. Scientists, naturalists, educators, students and others attend field days at the site once every three years. The next public field day takes place in 2023.
You may also be interested in: