In 2021, MidAmerican Energy launched a project to replace automated meter reading (AMR) devices on customer gas meters throughout the service territory. These devices allow MidAmerican to remotely collect meter data from a vehicle.
AMR devices were originally placed on meters over a decade ago, but the lifespan of early AMR technology is shorter than current models. Replacing AMR devices now will help prevent billing interruption.
Work to replace AMR devices will move one street, one neighborhood at a time, beginning in the Sioux Falls area in early 2021. The replacement of each device takes approximately 30 minutes, and there will be no service interruption.
Timeline and Locations
Crews will replace devices on gas meters that assist with meter reading throughout Sioux Falls, South Dakota, through December 2022.
Frequently Asked Questions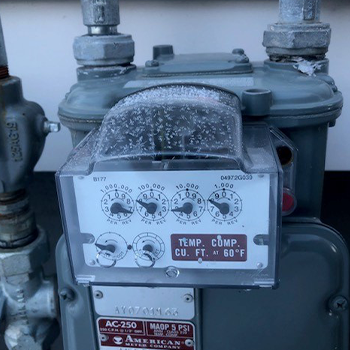 Do I need to be present when the automated meter reading technology is installed?
No. If your meters are outside and accessible, you do not need to be home. However, please leave fence gates unlocked and keep pets secured inside when crews are in your area.
How will I know when AMR installation is happening in my neighborhood?
You will receive a letter prior to work in your neighborhood beginning with more instructions and a time frame. Before beginning work on your property, a team member will knock on your door or ring your doorbell to let you know they are there. Once work is complete, a flyer or door tag will be left on your door.
How long will the installation take?
The installation process takes about 30 minutes per meter. However, if access to your meter is blocked by landscaping or any other type of obstruction, it could take longer. We appreciate any efforts to help us access your meter safely and easily.
Will my power or gas go out during the installation?
No. There will be no interruption to your service as part of this project.
Will I have to pay for the device on my gas meter or the new electric meter?
No. You will not be charged for the installation of new AMR technology.

Who is doing the installations?
Both MidAmerican employees and third-party contractors will be completing all installations in 2021. Crew members can be identified by their company vehicles and will provide an employee ID badge upon request.

Will the new AMR device interfere with my radio, television, computer, wireless internet access, telephone, security system, invisible fence, garage door opener, wireless speaker, remote starter or similar equipment?
No. The AMR frequency is different and will not interfere with other equipment. The equipment is certified with the Federal Communications Commission, and millions of gas, electric and water meters across the country have safely employed this technology for decades.

Are there any health hazards associated with the newer AMR technology?
No. All equipment complies with safety standards established by the Federal Communications Commission.

Will my bill go up once AMR is installed?
No. If your old AMR device was not working, you may have been receiving an estimated bill based on past usage rather than actual usage. The new AMR device will provide you with a more accurate bill.

My house or business was skipped. Do I need to reschedule?
No. If your meter has been replaced in the last year, you may already have a new AMR device and therefore do not need another one. If your meter is indoors or if you are part of the gas upgrade project, your meter and AMR device will be replaced as part of those STAR projects.