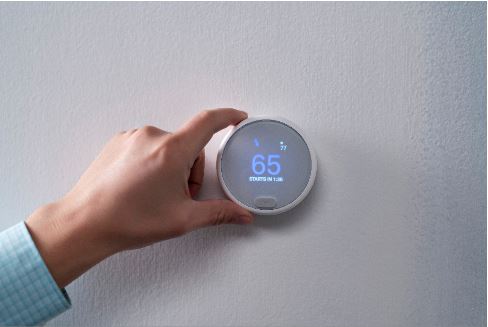 For the average American household, almost half of the annual energy bill goes to heating and cooling. Take control of your energy costs with an ENERGY STAR® certified smart thermostat. A smart thermostat is a Wi-Fi enabled device that automatically adjusts your home's heating and cooling temperature settings for optimal performance. Smart thermostats are easy to use and you can confidently control and monitor your heating and cooling from anywhere.
Using a smart thermostat to automatically
adjust your home's temperature
by even a few degrees can lower your energy use (and your heating and cooling costs).
Want to save even more with your smart thermostat? Participate in the SummerSaver
SM
program with your smart thermostat. Learn more about the
SummerSaver program
and check if your smart thermostat
qualifies
.
Qualifications
Participants must be residential customers located in MidAmerican Energy's Iowa or Illinois service territory.
MidAmerican Energy must provide the primary heating fuel to the home where the smart thermostat will be installed.
Smart thermostat must be ENERGY STAR certified at the time of purchase.
Smart thermostat must be installed in a property owned by the applicant, or the applicant must receive permission from the property owner to install the equipment. Submission of an application indicates that the tenant has obtained this permission.
Rebates are issued on a first-come, first-served basis. Rebates and incentives are offered until approved funds are exhausted or through Dec. 31, 2022, whichever comes first.
Iowa Smart Thermostat Rebate
Illinois Smart Thermostat Rebate