Iowa Fast-Charge Network FAQs for Drivers
Where are the public fast-chargers located?
MidAmerican Energy is building a public fast-charging network across our service area in Iowa, including 50-kilowatt and 150-kilowatt chargers. These MidAmerican charging stations and their payment systems are operated by a third-party provider called Shell Recharge, and the locations are managed by local site hosts. For specific locations of our public charging stations in Iowa, go to our updated DC fast-charging network map. Or check the Shell Recharge mobile app to find our public charger locations.
What types of plugs do your chargers have?
Our chargers support Combined Charging System (CCS) and CHArge de MOve (CHAdeMO) connectors to cover most electric vehicles. The type of EV you drive determines the type of charging plug you use. Some EVs, including certain Tesla models, require an adapter to plug into our fast-charging stations. Check your owner's manual for information on using your EV's charging port, including plugging and unplugging.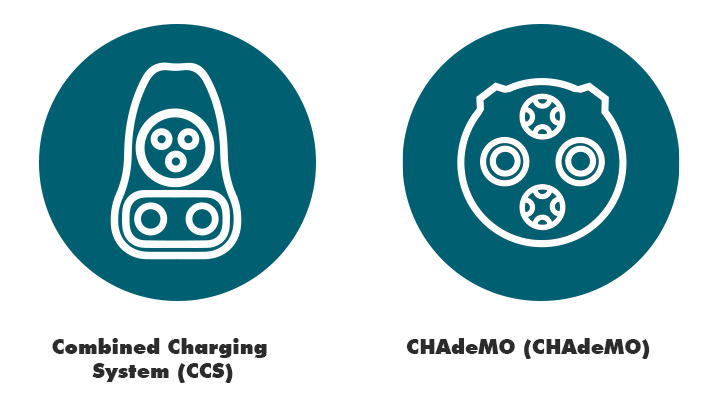 Can I safely charge in the rain or snow?
Yes, it's safe to charge your EV when it's raining or snowing.
How many vehicles can charge at once?
While each charging terminal has two types of plugs, a terminal can charge only one EV at a time. So each charging station, which has two terminals, can charge two vehicles at once.
How do I pay for charging?
The fastest way to pay is by using the Shell Recharge mobile app, which is available in the
Apple App Store
and
Google Play Store
, or scan the QR code on each charging terminal to download it. You can also pay at the plug using a credit or debit card.
How much does it cost to charge my vehicle?
Site hosts determine the charging fee at each charging station, consistent with Iowa law.
How long will it take to charge my vehicle?
Charging times vary based on many factors. Our 50-kW DC fast chargers can generally provide an EV with an 80% charge in less than 40 minutes. Our 150-kW DC ultra-fast chargers can generally provide the same charge in half the time. But factors such as the battery size and condition, how much the battery is charged before you plug in, how much you plan to charge it (80% or 100%, for example), and even outside temperatures, can all impact your charging time.
What are some general etiquette guidelines for using a fast charger?
Please don't block the charging station. Park at the station only when you're charging or waiting to charge.
Don't unplug someone else's EV without the owner's permission.
Stay close to your EV so you can move it once you are done charging.
Be considerate of other EV drivers waiting to use the station. Think about how much you want to charge before walking away. Most EV drivers see an 80% charge as the ideal time to unplug.
When you're done charging, please hang up the plug so that others don't drive over it or trip on the cable.