100% Renewable Energy Vision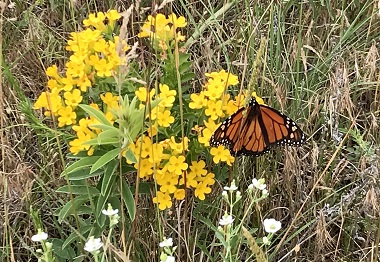 MidAmerican Energy is on a quest to provide 100% renewable energy to our customers through the
GreenAdvantage®
program.
In 2020, we delivered 83.6% of our Iowa customers' annual energy needs with renewable sources, mostly wind. This is a significant step toward achieving our 100% renewable energy vision and supports our goal of net-zero greenhouse gas emissions.
Investing in renewable energy helps maintain our affordable rates, currently the 12th lowest in the country, and has helped to make Iowa a national wind energy leader.
Adding more renewable energy to our generation mix has allowed Iowa's economy to grow and thrive, providing jobs and expanding opportunities across our service territory. Currently, six solar projects are planned in Iowa, allowing us to power more homes and businesses with clean energy.
This investment also allows our Iowa customers to meet their sustainability goals through our
GreenAdvantage program
. The Iowa Utilities Board verifies the amount of renewable energy produced by MidAmerican in a given year. This gives our Iowa customers the assurance that they are using clean renewable energy, harvested in Iowa.
MidAmerican will continue to use its natural gas, nuclear and coal-fueled plants to ensure reliable electric service even in times of low wind.
Through the Renewable Advantage Program, MidAmerican customers can make voluntary contributions to renewable energy projects. The program was developed in 2007 in accordance with Iowa law and allows customers to make a one-time or periodic contribution to the program.
The Renewable Advantage Program made it possible for MidAmerican to partner with the Iowa State Fair Blue Ribbon Foundation to use contributions and federal grant money to construct a .5-megawatt wind turbine and several solar installations near the visitors center on the Iowa State Fairgrounds. Future projects may involve wind, solar, biomass, animal waste/methane or other renewable energy technologies and will be determined by customer interest and participation.
Contributions can be made by calling MidAmerican Energy at 888-427-5632, completing our
online contribution form
or through check-off boxes included on monthly MidAmerican Energy bill stubs January through October.